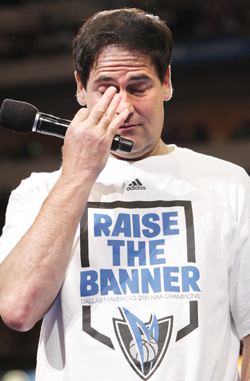 By Matt Moore
It's not often we go for the "this kid who's going with this girl who saw Ferris pass out at 31 Flavors last night, I guess it's pretty serious" kind of news around here. So take this for what's it's worth, but we thought it was entertaining enough to pass on. Last night after the meetings ended, the various NBA owners went to do what they do in New York. We're sure Mickey Arison was out hounding for the best food. Meanwhile, Ken Berger of CBSSports.com
was in the same mindset
as Federal Mediator George Cohen, who needed a drink. Turns out those two weren't the only guys in need of a stiff cocktail at the end of a bajillion hours of negotiating. From the
New York Post
:
Dallas Mavericks owner Mark Cuban was out in New York on Monday night to drown his sorrows over the NBA lockout. Cuban, whose team is hanging in limbo awaiting a decision on the season, came into Southern Hospitality in Hell's Kitchen to meet with two beautiful blondes, friends from Dallas. A spy tells us that at one point, a fan approached his table and said, "I sure hope the season starts soon, Mark," to which Cuban raised a shot glass of whiskey and responded, "I'll drink to that."
via
Dallas Mavs owner Mark Cuban "drinks to" the end of the NBA lockout - NYPOST.com
.
It's a great story, and plays into Cuban's "every man" image. And if reports are false that Cuban is indeed a "hawk" pushing for massive changes and taking a hard line in the negotiations, then it's easy to sympathize with the owner of the world champions who just wants to give his guys a ring. But most sources have indicated Cuban's as much on the front line trying to bring down the union's defense as anyone, which is what is holding everything up. The owners have locked out the players in their pursuit of what they feel are necessary changes to the CBA. The only real hope we have is that they keep drinking enough to forget about holding at 50/50 and ease up on systemic issues. Otherwise, if we keep drinking to end the lockout, we may have to hold the next negotiation sessions in a clinic.