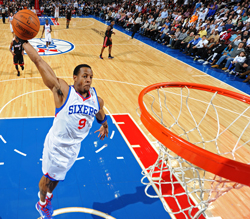 By Matt Moore
When billionaire Joshua Harris purchased a theoretical basketball team (considering they don't actually play basketball right now), it brought some questions about the league's claims about the dismal state of affairs. After all, if Harris is investing so much in a new team along with owners in Atlanta, Detroit, and less recently Golden State, are things really that bad? Whether it's a reaction those questions or a gesture of goodwill from the new ownership, Sixers fans are about to reap the rewards.
From Philly.com:
1. The Sixers announced lower single-game ticket prices for the upcoming season. Over 8,800 seats will be significantly reduced for single-game tickets during the 2011-12 season. The new single-game structure results in 51 percent of seating being recuded. Certain lower-level seats that were $54 last season will be $29 this upcoming season.

"We are committed to providing our fans with the most entertaining in-game experience in the NBA, and also one of the most affordable," Aron said. "At the Sixers, we want to be on the side of the fan, so in these tough economic times when family budgets are strained, we decided to dramatically lower ticket prices."
via
76ers
new ownership takes stage | Philadelphia Inquirer | 10/18/2011.
It's a good thing regardless of intent for the owners to do this. The fans have been put out more by the lockout than anyone who isn't employed by the NBA. They're the ones struggling with the economy but still wanting to give their money to teams. It's a good way to start your relationship with the city. Now we'll just have to say whether some changes to the team can make the Sixers an even better bargain.
(HT:
SLAM
)