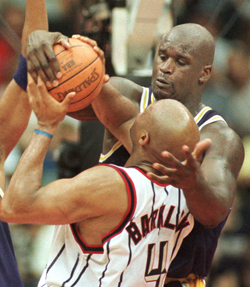 By Matt Moore
Shaquille O'Neal has probably the widest array of outside-basketball interests of any current or former player. He's a sherrif, he dances, it's a whole big world for Shaq. And in an interview with the
New York Times
, Shaq revealed that he wants to take on a new role, NBA owner, but not just anywhere, in his hometown of Newark.
You've talked about owning a team someday. Do you still want to do that?

A.Yes. And I'm looking forward to bringing a team to Newark. I haven't spoken to Mayor Booker about it yet, but I'm working on it. I know Newark can support an N.B.A. team. And I'm going to be one of the guys that's going to bring a team there.
via
Q. and A. With Shaquille ONeal - NYTimes.com
.
So with the
Nets
moving to Brooklyn, there will be room in New Jersey. But of course, that means a team has to go there. So Shaq wants to buy a team, and then move it to New Jersey. That should go over like gangbusters.
Side note, can you imagine Shaq in on these NBA labor discussions? No gag order in the world could contain him. Shaq and Jordan sharing a boardroom would be pretty prolific in terms of progressing the power of modern athletes. But O'Neal needs the money, the team, and the partners to get a team first. We're a long ways off from a team in Newark, if ever. The Q&A does reveal that O'Neal's running for undersherriff in Florida, though, so he's got that going for him.