Posted by Ben Golliver.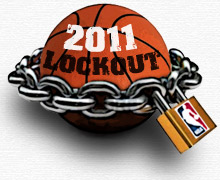 Representatives of the National Basketball Association and the National Basketball Players Association took part in more than 16 hours of talks led by federal mediator George Cohen in New York City on Tuesday but failed to reach an agreement on a new collective bargaining agreement.
Ken Berger of CBSSports.com reports
that the two sides will resume their negotiations at 10 a.m. on Wednesday. The NBA's owners had been scheduled for Board of Governors meetings on Wednesday and Thursday in New York but Berger
reports
that the labor talks "clearly take precedence."
Specific details of the marathon negotiation session are unclear. Berger
reports
that a spokesman for the NBA "has asked both sides to refrain from commenting, and they are abiding."
NBPA board member
Chris Paul
said on Twitter
: "WoW, 16 hours...I PROMISE we are trying!!!"
Yahoo Sports cited
a source in the meeting saying that "very little" progress was made, that the two sides were "still not anywhere near a deal," that the only "gaps" that had been narrowed were "on small stuff" and that it was "hard to see where this is going."
Newsday reported
that "nothing [was] achieved toward a deal. But there's always tomorrow."
Cohen met with both the league and the players union individually on Monday in advance of Tuesday's negotiations, which come eight days after commissioner David Stern cancelled the first two weeks of the 2011-2012 regular season.
Tuesday's meeeting, the longest since the NBA imposed a lockout on July 1, dragged on for so long that NBA writers staking out the talks reported receiving complementary cookies from the NBA and, later, ice cream and chinese food from the NBPA. The talks began at 10 a.m. Tuesday local time and concluded just after 2 a.m. Wednesday morning.
SheridanHoops.com reported
the following attendees at the meeting.
Representing the owners were Peter Holt (San Antonio), Clay Bennett (Oklahoma City), Mickey Arison (Miami), Mark Cuban (Dallas), Jim Dolan (New York), Dan Gilbert (Cleveland), Wyc Grousbeck (Boston), Larry Miller (Portland), Robert Sarver (Phoenix), Glen Taylor (Minnesota) and Bob VanderWeide (Orlando).


Representing the players were Derek Fisher, Maurice Evans, Chris Paul, Theo Ratliff, Etan Thomas, Matt Bonner, Roger Mason and James Jones.
In radio interviews last week
, Stern said that nearly two months of the season could be in jeopardy if a resolution was not reached on Tuesday.
"Deal Tuesday, or we potentially spiral into situations where the worsening offers on both sides make it even harder for the parties to make a deal," Stern said. "If we don't make it on Tuesday, my gut -- this is not in my official capacity of canceling games -- but my gut is that we won't be playing on Christmas Day."
Further game cancellations are expected to come in two-week increments. The decision to cancel the first two weeks of the season came three weeks in advance of the scheduled start date of Nov. 1. If the same lead time is necessary for the next cancellation, an announcement should be made by Monday, Oct. 24.