Posted by Ben Golliver.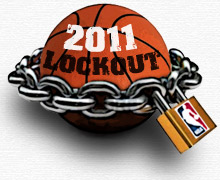 There are billions of dollars at stake in the ongoing NBA labor crisis, and the politicians and lawyers are circling in the water like sharks.
MyFoxMemphis.com reports
that the city of Memphis, home to the NBA's
Grizzlies
, is investigating its options with regard to the ongoing lockout, including litigation against the league to recoup up to $18 million that would have been used to pay off arena bonds for the publicly-owned FedEx Forum.
At the suggestion of Chairman Myron Lowry, the council is considering a resolution that would ask City Council Attorney Allan Wade to explore all options, including a lawsuit against the NBA.

Wade says this is the first city he's heard of considering this type of action. "If it gets to be half a season that's a big problem. If that thing sits idle for a whole season that's a big problem," he said. "I think that goes against the spirit of our agreement because our arena is built with revenue, not guaranteed money."
The site reports that the resolution passed by a vote of 8-3.
To boil this down: a portion of the money generated during home Grizzlies games at FedEx Forum goes back to the city to help pay off the original financing of the arena. If there are no home games there is no revenue with which to pay back the city. The city wants its money and could decide to sue the league to get the money at some point in the future. Good times.
Ken Berger of CBSSports.com
reports
that NBA spokesman Mike Bass says the league has "no comment" on the matter.
It's worth noting that this type of legal action could theoretically happen in any other city that has a publicly funded NBA arena.
Here's MyFoxMemphis.com's video report.