Posted by Ben Golliver.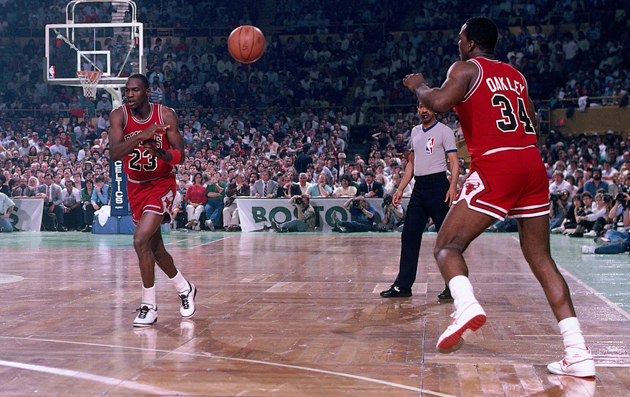 If your goal is to measure a man's worth, you probably want to talk to Ernest Hemingway, Dr. Martin Luther King, Jr. or Charles Oakley. Those guys pretty clearly established themselves as the experts at sizing people up. Hemingway would take the subject to the bar to see how much he could drink, King would distill a man's soul in a few lines of speech, and Oakley, one of the NBA's most notorious tough guys, would just stand there, glaring, seeing if the guy flinched. What more do you need to know?
As such,
HoopsWorld.com asked Oakley
to chime in with his thoughts about much-maligned Miami
Heat
All-Star forward
LeBron James
. Earlier this year, former Chicago
Bulls
forward Scottie Pippen
declared
that James would go down as the greatest basketball player of all time, ranking ahead of The Greatest Player Of All Time, Bulls guard Michael Jordan. Pippen later
walked back the comments
but the damage was done.
Here's what Oakley had to say.
"I wouldn't put [James and Jordan] in the same conversation."

"It took a while for Michael to win championships too, but they have a different swagger, a different demeanor. If I would compare anybody to Michael Jordan, it would be Kobe Bryant. Point blank. I know LeBron well; he don't have what Michael have so I'm not even gonna discuss that one."

"To be a superstar (LeBron) has to go back to his fundamentals… work on his post game, work off the ball."
Not in the same converation. Not even going to discuss it. Has to get back to his fundamentals. Wham. Bam. Thank you, ma'am.
It goes without saying that Oakley is about as biased as one can get in this particular evaluation. After all, he was Jordan's teammate with the Bulls and
Wizards
, serving as an on-court bodyguard and off-court gambling buddy. He also served as an assistant coach for the Charlotte
Bobcats
, a team Jordan owns, and the two are reportedly close friends. Nothing has changed since the Bad Boy Detroit
Pistons
tried to rough up Jordan back in the day; Oakley still has his buddy's back.
But we shouldn't dismiss the finer points of Oakley's account simply because of his relationship with Jordan. After all, he's not really covering new ground in attacking James' psyche, polish and determination. His is just another voice repeating similar nit-picks of James' game that have persisted for years. It doesn't sound personal to Oakley. Just frank talk, as always.
It's worth noting that Oakley and Pippen, who both spent significant time around Jordan, have such divergent opinions. Perhaps that's because Pippen was still around to win six titles with the Bulls while Oakley retired having never won a ring. It would be easy -- perhaps even natural -- for Pippen to take all that winning for granted or to assign himself an outsized portion of the credit for those six titles. Oakley, though, has no such luxury. He can only view Jordan as The Greatest through the lens of a man who saw him develop first-hand and then was defeated, time and again after he was traded to the New York
Knicks
, by the fully-formed product. Perspective is a mother!