Posted by Ben Golliver.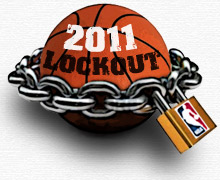 Last week, the NBA cancelled the first two weeks of its regular season -- wiping more than a handful of games off of each team's schedule -- because of the ongoing NBA lockout. Further cancellations are expected if no significant progress on a new collective bargaining agreement between the league and its players is made during a Tuesday session that will be led by a federal mediator.
But that doesn't necessarily mean that the games are lost forever. Multiple reports indicate the NBA has investigated a number of options for setting its schedule depending on how long the lockout lasts.
The New York Post reported
last week that modified versions of shorter schedules have been formulated.
Although the league called the move a "cancellation" and not a postponement, games eventually could be shifted or re-arranged. As The Post has reported, the league has contingency plans for various scenarios, including schedules calling for 75, 70 or 60 games. The last lockout caused the season to start in February 1999, with a Munchkin-sized 50-game season that included numerous back-to-backs and three games in three nights.
Then,
ESPN.com reported
that the NBA even has a delayed-start, full 82-game schedule in the works.
Strong rumblings continue to be conveyed to ESPN.com about the league preparing a secret schedule that starts Dec. 1 and still manages to pump out 82 games.
This shouldn't really be a surprise. The schedule will need adjustment regardless of when an agreement has been reached because the two-week cancellation period, and any future cancellation periods, don't cancel an equal number of games for every NBA team. If some level of tweaking is needed, it makes sense to pick a round number of games when adjusting.
That said, the proposed idea of running a full season delayed a month would seem to be a worst case scenario for the quality of play. Not only would players be expected to rush back relatively quickly from the lockout's indefinite exile, they would be asked to play at a more frantic pace. This would likely mean an increase in back-to-backs and three-games-in-four-nights scenarios as well as less recovery days. That's a formula that will likely add up to more minor injuries and sloppy play. Starting a full season on Dec. 1 would mean a one-month delay from the original start date of Nov. 1. Even if the start of the postseason was pushed back two weeks, that's still 14 rest or travel days that will need to be cut from an already tight schedule. Good luck with that one.
It's not logistically impossible. But why bother? The quality of play issue and the potential for injury would seem to trump the extra 3-8 home games each team would recover. Besides, the NBA and its owners cared so little about saving the sanctity of its 82-game season that it would be a huge surprise if they did a 180 degree turn and clamored for its restoration after the fact.
Then again, this is the NBA lockout, so logic really doesn't apply.