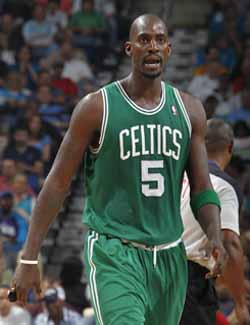 Posted by Royce Young
Over the weekend, we told you about how a few of the NBA's heaviest hitters
intervened in labor negotiations
, possibly halting some of the progress.
But according to Yahoo! Sports
, "halting" isn't exactly the right word for what
Kevin Garnett
did.
This fight has grown nastier, more personal, in the past weeks. Privately, management insists that everything changed when the Boston Celtics' Kevin Garnett walked into the negotiating room on Oct. 4. The owners knew it wouldn't go well when Garnett started glowering across the table, sources said, like the league lawyers, owners and officials were opponents at the center jump. He was defiant, determined and downright ornery. He was K.G. Everyone knew Hunter had to cede to the wishes of the stars, and the stars demanded that the players stop making confessions to the owners.

As one league official said, "We were making progress, until Garnett [expletive] everything up."
Well then. I don't know how one guy could walk into a bargaining environment that he hadn't been in yet and blow everything to pieces, but it sounds like Garnett may have done exactly that. Pointing fingers? Yelling? Just being Kevin Garnett in general? There's no telling, but according to this report, it wasn't good.
Players need to be involved because this is their deal. But with superstars comes egos. They've always gotten what they wanted and feel entitled to not just have their voice heard (loudly), but also for their opinion to be taken seriously. And that's likely what happened when Kobe, Garnett and others strolled into the talks.
It sounds a bit dramatic that Garnett "bleeped" everything up, but who knows. Labor negotiations are a delicate thing and maybe Garnett said something that made other players dig in their heels. Maybe he said something that ticked off owners and did likewise for them. Who knows.
All we really know is that it's Oct. 17 and there's still not a deal.