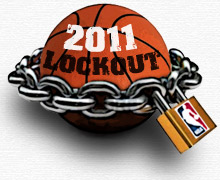 Posted by Royce Young
The lockout has already forced the cancellation of the first two weeks of the NBA season. If Tuesday's meeting with a federal mediator goes poorly, it could cancel games on Christmas for the NBA.
After that it'll be January games, the All-Star game and The Finals. The
entire
season. Scary.
The NBA draft is a long way off. But don't think there's some planning going on in case the lockout gets that far.
Let's pray to everything that it doesn't come to this, but what happens to the NBA draft if a season is lost? With the draft order being settled currently based off of past performance of teams, if there's no season, meaning no final records, how will the league determine draft order?
According to HoopsWorld
, the NBA would try to just revise the lottery system to include all 30 teams.
"Informed sources say the idea that would be the easiest to sell to everyone is a 30 team NBA Draft Lottery where all 30 picks are determined by the ping-pong ball, giving teams like Boston, Miami and the Lakers are equal shot at a top pick."
If that's indeed how the league would approach the lottery, then let me say that plan is a horrible idea. Like the report said, it's probably the easiest to sell because how exactly do you just project who would've sucked during the season? But I think you have to take the last two or three seasons into account. Because come on, we know the Lakers, Celtics and Heat aren't going to be finishing outside of the playoffs this season. We know the Wolves, Kings and Wizards almost definitely are.
How do we know this? Because of recent history. Now some teams can certainly surprise and turn things around. The Thunder are a wonderful example with the way they went from 23 wins to 50 in a season.
But to give every team and equal shot just doesn't seem right. There's really no great solution, but there has to be something more fair to everyone than just open season on the lottery. Especially since this upcoming draft could be the best since 2003. Imagine the Heat with Anthony Davis (note: the Cavs actually have the right to swap with the Heat), the Lakers with Jared Sullinger and the Celtics with Harrison Barnes.
Wait a minute, maybe that would be pretty awesome.