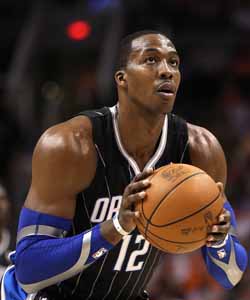 By Matt Moore
Dwight Howard
spoke with Scott Raab of Esquire for an interview. It's kind of surprising, given that Raab is such a vocal and often times vulgar critic of
LeBron James
and how he handled his free agency. But Howard's comments are going to light up the NBA world like a Christmas tree, even as the season continues to be imperiled with the loss of games. Howard spoke about free agency, and his time in Orlando.
Magic
fans, you may need to pour youerselves something stiff first. From Esquire:
SR: Do you think that the drive to represent, on an iconic level, will be a factor in your free agency? Do you see yourself in a much larger market?

DH: There's more you can do in a bigger place. I'm stuck in a tough position because I feel like right now, where I'm at, I've done so much. And I just don't know what else I can do. I can't live for everybody else. I don't know what decision I'm gonna make as of right now. It's been crazy. Everybody wants me to come here, come play here, come to our team, do this. It's a great feeling, though, to be wanted.

SR: You're gone. I can feel it.

DH: The toughest part for me is the city — the people. They've got burgers named after me in Orlando, they've got a Web site saying, "Please stay." I love the people in the city. I've literally sat on the bench with a towel on my head crying, because I feel the passion in the stands. I just think about what's going to be best for what I want to accomplish in my life. And I don't want that door to close on me, wherever that door is. I don't want it to close.

SR: Just don't do it as an hour-long ESPN special. Please.

DH: That's not me.
via
Dwight Howard Quotes on Fatherhood, Children and More - Esquire
.
That's funny. It's as if a million souls cried out in terror and were suddenly sent to the lottery for the next ten years.
This is what most of us were expecting and Magic fans were in denial of. It's Howard acknowledging his time in Orlando with sadness, and talking about how "he doesn't know what else he can do."
Panic! at the Walt Disney World Resort.
The season hasn't started. The lockout's far from over. Free agency is months away. Two seasons (Winter, Spring) in fact. But already the narrative for next summer is in full gear. And Howard just dropped a can of nitro fuel in the tank and watched this thing light up. The big question for the next year is going to be: Will Dwight Stay?
And from here, it sure doesn't look like it.
The question that's starting to be formed in Orlando isn't about whether Howard stays, but who's to blame? There's a trend rising to pin it on Otis Smith, the same guy that built the Finals-contender, but who also traded for
Hedo Turkoglu
and
Gilbert Arenas
inside of a day and who gave bad contracts to marginal players while adding those albitrosses. Howard leaving Orlando could not only mean the franchise losing its second franchise center in 15 years, but the complete tear down of the Magic organization. And they just got that nice new building, too.
The All-Star Game is scheduled to be in Orlando this year. If we have a season, that's going to be one fun week to watch Howard deal with the questions. Poor guy. He won't know what else he can do.
(HT:
SBNation
)