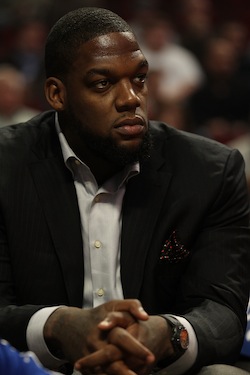 Posted by Royce Young
Eddy Curry dropped out of the star-studded charity game in Miami last week, which of course caused everyone to say, "Classic Eddy Curry." The gifted, yet often fat and unmotivated Curry has been trying to arouse interest in a lot of teams for a comeback, one being the Miami
Heat
who are looking for a big man.
So with Curry's latest disappointment, it was natural for everyone to assume that he just wasn't ready. Or something. Not the case, says world-class trainer Tim Grover.
Via the Miami Herald
:
Curry, who interests the Heat, is in "excellent shape" and "no question" ready to join an NBA team post-lockout, well-regarded Chicago-based trainer Tim Grover told us last week. Grover declined to give Curry's weight, which was 300 in August, down from 350 in March.

Grover said he advised Curry not to play in the FIU charity game last weekend because "these are not games for big men."
Grover's right: Those up and down games don't do big men any good. Especially ones that may or may not be over 300 pounds. But seriously, it was probably best for Curry to drop out of it, especially if he's not totally ready. He would've been huffing and puffing the whole time as LeBron,
Chris Paul
and
Dwyane Wade
zoomed past him. He probably would've just been stuck in traction between the free throw lines.
I'm rooting for Curry though. I'm a big fan of redemption stories and knowing the talent Curry has, he could still be something in the NBA. We make fun of Isiah Thomas and his outlandish contract he gave Curry, but he saw
something
. It's just a matter of getting it out of him.
And if anyone can do it, it's Tim Grover. Maybe the Heat will go ahead and take the chance on him. They passed on the opportunity last season, but if Curry can prove he's still got a little something left, I'm sure Pat Riley and Erik Spoelstra will be more than happy to take the chance.