By Matt Moore
Let's not waste your time.
LeBron James
was taking questions from fans today and actually answering them. I think only two of them included the word "fam" too. Lots of exclamation marks, but hey, it's a start.
And then,
this
.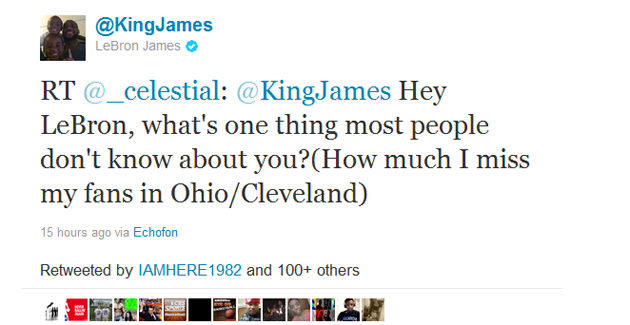 Yeah, that should go over well.
Maybe he's feeling nostalgic. Thing is, he doesn't gain anything by saying that. Cleveland's never going to forgive him. He knows that. Maybe it's just part of his rehabilitation act. But he's not talking about the lockout. He's just taking questions, and with the fact he spends so much time in Akron makes you wonder. He left Cleveland. And he abandoned the franchise and the fans. But that doesn't necessarily mean the state's dead to him.
Yeah, that's not going to go over well.