Posted by Ben Golliver.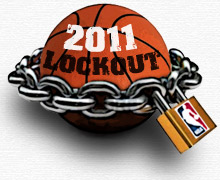 NBA commissioner David Stern minced no words in countless radio and television interviews this week: If a labor agreement can't be reached with the National Basketball Players Association during a Tuesday negotiation session led by federal mediator George Cohen, then the league's annual Christmas Day games will be put into grave jeopardy.
Ken Berger of CBSSports.com recorded
the clear, repeated threats.
"It's time to make the deal," Stern said, "If we don't make it on Tuesday, my gut -- this is not in my official capacity of canceling games -- but my gut is that we won't be playing on Christmas Day."

"Deal Tuesday, or we potentially spiral into situations where the worsening offers on both sides make it even harder for the parties to make a deal," Stern said.
NBPA president
Derek Fisher
and executive director Billy Hunter pushed back hard against those threats following a union regional meeting at the Beverly Hilton in Los Angeles on Friday.
Fisher made it sound like the deadline and the urgency surrounding it were simply figments of Stern's imagination.
"That's an arbitrary deadline just to throw out on commissioner Stern's part," Fisher said. "We don't see it that way. Obviously he's entitled to make the statement but it just seems very arbitrary and with no real purpose other than to sway player sentiment. I don't agree with the way it's been done but I'm not him so I can't speak to that part of it."
Hunter called out the NBA for choosing to limit its availability for discussions next week.
"George Cohen, the federal mediator, was proposing that we actually set all of next week aside," Hunter said. "The entire week, for mediation. It's because of the NBA's schedule and the commissioner's alleged inability to get together with us over four or five days, I think he set the sort of superficial, arbitrary deadline saying that if it doesn't happen by Tuesday then all these other things will evolve as a consequence."
Hunter also noted that its unrealistic to expect a single day of negotiating to produce a new collective bargaining agreement.
"My attitude is that if they really want to get a deal, we've been negotiating for over two years," he said. "The probability and likelihood of getting it in one day, because we'll only be together one day on Tuesday, then I believe the NBA has scheduled Board of Governors meetings and other meetings on Wednesday, Thursday and Friday. So that's why it's limited to one day and one day only."
If Stern's purpose in launching the media blitz and ramping up the threats was to appeal to rank-and-file union members, Fisher said it won't work.
"For our players, we've made a pledge not to continue in any way to allow what is say or written or printed in the media or statements that would be made to frustrate us or sway us in any way," he said. "To make sure we're thinking as businessmen and we're being very smart about what we need to do."
Hunter even resorted to a firearm metaphor to underscore how undeterred he was by Stern's threats of cancelled games and "vaporized" player wages.
"I think it can only get worse for both of us," Hunter said. "If somebody is pointing a gun at my head, I'm going to point one back at him. That door doesn't swing one way. It's not just the players who will suffer if games are lost."