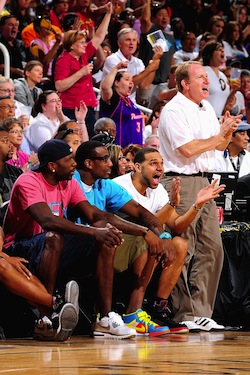 Posted by Royce Young
Everyone is frustrated with the lockout. And therefore, everyone's looking for somewhere to point their finger.
Amar'e Stoudemire
spoke with Newsday and naturally, the lockout. He was asked about his former boss in Phoenix, Robert Sarver, who is famously tight with his money, or at least in terms of NBA spending. And Stoudemire, who saw some $61 million go in his pocket from Sarver, didn't hold back on his old chief.
As to who the hardline owners are,
Stoudemire said
, "Sarver, for sure" and added that the
Suns
' owner "probably the main guy who is pushing for this lockout."
That right there, is fightin' words.
For good measure,
Stoudemire added
: "It wouldn't have been a big deal if he had just re-signed some kid named Stoudemire. Then he'd be in good shape."
Obviously his meaning is that the Suns wouldn't be struggling to make profits, I suppose. Amar'e thinks so much of himself that he'd take the Suns out of the red and into the black. Not just in the win-loss column either.
But this is the way with lockouts. The longer it goes, the nastier it gets. And there's probably a good amount of truth to what Stoudemire is saying. Reportedly, Sarver and Cavs owner Dan Gilbert have to of the loudest voices pushing for a hard salary cap. It's natural that some owners are going to express their point of view louder than others. Like I don't think Clay Bennett has necessarily been involved a ton in the discussions. But you can bet Sarver, who's very conscious of his money and business, is going to get every last word in.
Which means I'm sure he'll have a response for Stoudemire.