Posted by Ben Golliver.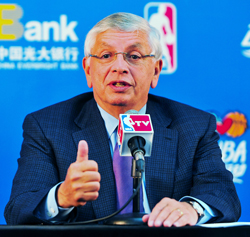 After weeks of "no comments" or limited remarks following unsuccessful labor negotiation meetings, NBA commissioner David Stern has launched an all-out media offensive over the last 24 hours, appearing on numerous radio shows and NBA TV to give his side of the story.
Ken Berger of CBSSports.com has the
key quotes from Thursday
, in which Stern offers up an important new deadline, questions whether the NBA will be able to play on Christmas and lays out ownership's position on damn everything.
There was one obvious question left unasked: Why is Stern talking now?
The
Dan Patrick Show
asked that question in
a Friday morning interview
. Stern wasted no time blaming NBA agents and National Basketball Players Association executive director Billy Hunter for his own media blitz.
"We decided it was time to do it because of the circumstances that we find ourselves in," Stern said. "The union has been buffeted by the agents, who literally don't want there to be a union. Why? As [agent] Arn Tellem has said, it's bad for the superstars that he represents. And, oh by the way, the union regulates agents and what they can charge. So of course the agents don't want a union. That causes [NBPA president]
Derek Fisher
and Billy Hunter to send out letters to the membership, denouncing the agents for trying to change the deal. And it causes them to become more strident, it causes them to say things that are not exactly the way things went down. We have to move out there to correct the record."
Stern didn't bother obscuring the underlying motive of his public campaign: influencing player sentiment.
"I think the players, if the rank-and-file truly understood the dynamic of the negotiations, they would have a completely different picture," Stern said. "And they would say, 'Let's get back to work.'"
The commissioner stopped short of calling Hunter a liar but did say he was responsible for perpetuating what Stern feels is an "inaccurate" representation of the negotiations and the proposals made by the league's owners.
"I think it's fair to say that [Hunter's] depiction of our motives, our offers, the state of the negotiations is inaccurate."