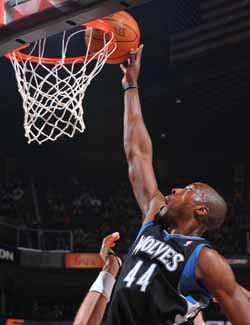 By Matt Moore
If you'd asked me yesterday afternoon about NBA players and their use of Twitter during the lockout, I would have said two things. One, they are almost entirely unapproachable, preferring to answer only elements of positive support or comments from other players. And two, their knowledge of how to use Twitter to express their views about the lockout have been woefully inadequate. Most notably, the #standunited and #letusplay hashtags were terribly conceived. You know what happens if you tell the public to ask the owners to let them play without any context as to the issue or your real position? You look stupid. And incapable of harnessing social media. And did I mention stupid?
If you're the union and want to use Twitter correctly, you can hold the line on the players' side of negotiations while actually being honest with fans. Sure, a lot of casual fans aren't aware of the nuances of the lockout. But those same individuals are unlikely to be swayed by a hashtag. There's more information than ever available for interested fans to learn about BRI, revenue sharing, all of it. Whether they agree with you or not, it's better to level with them and seem reasonable than to simply blindly shout at the owners and beseech the fans to support the players without understanding their side of the dispute. Shouting hasn't gotten us anywhere in the lockout, on either side.
Which is why
Anthony Tolliver
's appearance on Twitter Thursday night was such a surprise. I found Tolliver taking questions from fans with actual substance regarding the lockout. Our brief exchange, while he also discussed the dispute with other fans was both mature and insightful. This from a player who worked his way up from the D-League into a reserve role with the Wolves last season. Tolliver is at once the kind of player who needs the lockout over most based on his salary and the kind of player that the lockout is being waged over, the non-stars who feel they need long-term stability.
It began with Tolliver commenting "If the owners want competative balance lets have no cap! #letsjustplaybasketball
."
I responded to another comment from him regarding how baseball has competitive balance (on the surface, considering the small market teams that regularly appear in the World Series; timely given the Championship Series of St. Louis-Milwaukee), asking about how the Yankees still enjoy a distinct advantage due to their payroll. It was then that Tolliver began to engage in an actual dialogue, the kind the union should have been having its players participate in with fans or media or whoever they'd like instead of participating in the Twitter version of holding a sign while yelling into a megaphone. What follows are pieces of that conversation. Tweets have been edited to make reading it easier. It's hard to hold a conversation in 140 characters at a time.
Tolliver:
Smart management is what creates competitive balance more than anything....not caps.
Tolliver:
The Yanks have had success but what im saying is that the owners think they can "fix" the balance with a cap.
Moore:
Well, that's what they're saying. I've gotten to where I don't believe they care about the balance at all. Just the profit.
Tolliver:
I agree...lol. At the end of the day if they all can line their pockets with more cash they wont care about balance.
Moore:
Do you guys care about competitive balance or is it one where you think it will just work itself out, i.e. survival of fittest?
Tolliver
: I played on the worst team in the league and im not asking for help! we have enough talent to improve and compete.
Moore:
So you think with... different approaches by management (trying to keep you out of trouble) the Wolves can compete with LA?
Tolliver:
It is tougher for small market teams but it always will be
Moore:
Right, but the ability to abuse the lux tax by large markets helps. There's a balance to be struck there, right?
Tolliver:
With great draft choices and strategic trades i believe that ANY team can be very competitive.
Moore:
(I) (d)on't mind shortening the gap with (revenue) sharing or some systemic change. (I) mind owners bullying you and squabbling over who offered 50/50 first.
Tolliver:
Oh and the revenue sharing for the NBA is by far the lowest of all professional sports so yeah...that needs to increase fa sho.
Moore:
If you're keeping guaranteed contracts (which you should), is shortening them a reasonable compromise? Just how much is (the question)?
Tolliver:
I think shortening them is fair...and even compromising on other issues is fair as long as its compromising on both ends.
Tolliver:
I believe there needs to be some changes as well. i just want a fair deal so i can play the game that i love.
Moore:
Problem is that when you guys say you want to play, fans get insulted because you want to play for what you feel is a fair deal. You guys
would do better
if you didn't say you just wanted to play, but wanted to play when you're not bullied.
Most of the smart people
know the owners have driven the lockout, but the "we just want to play" approach is patronizing.
Tolliver:
Why is that patronizing? We all just want to play ball BUT with a fair deal. I guess its all relative.
Moore:
We live in a smarter world with messaging. So saying "just want to play" when there are caveats seems disingenuous, even if not.
Tolliver:
Thats way too much to say lol...I'll stick with I JUST WANT TO PLAY. LOL.
Moore:
Hey, that's easier. I'm just telling you the reactions the media gets from fans, a lot of whom have supported the union.
Tolliver:
I gotcha...when players say that they dont want to offend the fans. we know the fans MAKE us who we are.. #fanappreciation
Moore:
Do you think the anger and resentment from the players side at the owners antics is a good thing or a bad thing?
Tolliver:
I'm not sure if the emotions the players are showing hurt or help our cause..all i know is guys LOVE this game and want to play.
Moore:
Amar'e, Blake, Kobe, Steve seem pretty reasonable, but some of your guys are downright pissed. Hurt or help?
Tolliver:
Some guys dont (know) all the details of whats going on..all they (know) is that the owners are locking us out & that makes them mad.
Moore:
How much of it do you follow?
Tolliver:
I follow every word, every article, every news story...this is my livelyhood for hopefully the next 10 years!
Moore:
Has the lockout been one of the few instances where the players don't feel like the media is out to get them?
Tolliver:
Media is ALWAYS out to get us! They are EVIL!!! LOL
Moore:
You realize now I have to write a post tomorrow that says "WOLVES PF BELIEVES IN OCCULT" right? It's in my contract. #notreally
Tolliver:
LOL aight...i dont want u to lose ur job. LOL.
Tolliver also took questions and comments from
a number
of fans and
writers
on Twitter, giving what at least appeared to be honest opinions about the state of negotiations.
His insight is a nice peek beneath the rhetoric. Tolliver acknowledges the need for change and compromise, while holding to his colleagues' stances on various issues including competitive balance. He doesn't dodge questions about players' reactions to the dispute, but also doesn't try and speak for them or against him. It's this kind of reasonable, honest dialogue that should be the backbone of the negotiations, not the players' discussions with fans and media on Twitter. But at least it shows us that the middle class of NBA players, who have become the dividing line in the negotiations headed intow next week's mediation session, have a working knowledge of the dispute, the issues involved, and a recognition of how the lockout is hurting the fans. They're willing to listen. If only both sides guiding the dispute would.