Posted by Ben Golliver.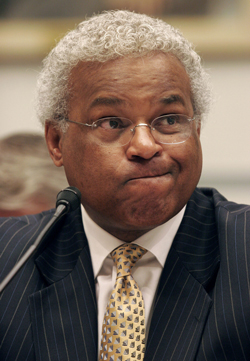 On Thursday
, NBA commissioner David Stern declared that a labor deal with the National Basketball Players Association must be reached by next Tuesday, when the two sides will convene with a federal mediator, or a significant portion of the NBA season, including the league's Christmas Day games, would be put at risk. For those of us who have watched the league's labor negotiations plod along with little progress in the formal offers from the two sides, a drop-dead date of Tuesday with no meetings scheduled prior to that date sounds like a very, very bad thing.
Responding to Stern's comments, NBPA executive director Billy Hunter
told Yahoo Sports
that a lack of time really isn't the key issue. In fact, Hunter said that the framework of a new agreement could be arranged lickety-split, assuming the two sides could actually agree on the major issues that separate their proposals.
"It's not an issue of time. It's an issue of will. If you are in a room and you want to make a deal and there are three major issues that are holding you up, if you can come to a compromise on those three areas than you have a makings of a deal. It's not a nature of time. We can go in and do a deal if they want to go in and do a deal. We can do a deal in an hour, two hours if we can agree to the major terms. And after that you got to work on everything else. Everything else will fall in place."
That sounds awful promising, at least until Hunter goes on to describe his belief that the owners are taking an "extreme position" and accuses them of failing to negotiate in good faith.
"David Stern told me three years ago – and I keep reiterating that because people keep pulling up their cup on it – that they were going to lock out [the players] in order to get what it was they wanted. And what he's done is done that. [Stern] said he was going to lock out [the players] and his owners were prepared to lock out to get what they wanted. It's driven pretty much by the small-market teams... He's stated an extreme position from the get go and he's negotiated that way. So here we are.

"We've been negotiating for almost three years, and here we are at the 12th hour when all of the sudden they make a slight move. But then on top of that, they then decide that they want a hard cap. So then when you get close to the economics of the number, then they get close to the system. And they know that the system is very important. If we give on the economics, we are not going to give on the system. And so all of the sudden you reach a possible agreement on the economics and now the system becomes a problem. So it's like a moving target."
Whether Hunter meant to or not, he presents the current state of negotiations as the exact scenario where a mediator would be most helpful. Hunter's account clearly states that the two sides know where each other stand. His account clearly states that his side is willing to give but not totally concede. His account acknowledges some movement by the opposing party and the need for more. And, more than anything, it confirms that recent talks haven't been particularly fruitful because of miscommunication, intentional or otherwise.
A neutral third-party could very well help organize the conversation, clarify the agenda items, and cut through the unnecessary, emotional, personal or petty arguments that might arise during a negotiation that involves billions of dollars, massive egos and competing agendas. If what Hunter says is true, that the 2011-2012 NBA season could be saved in a mere matter of hours if things break right, then Tuesday's mediation session truly is a promising step. If the problem here is the quality of the conversation rather than the quantity of the conversation, it would be a fool's errand to repeat this negotiation's past mistakes without trying to shake up the process.