Posted by Ben Golliver.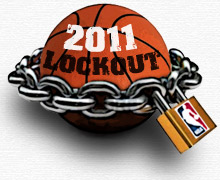 The NBA took the plunge earlier this week, cancelling the first two weeks of the 2011-2012 NBA season. It's the first time in more than a decade that regular season games will be cancelled but, still, there's some consolation in the fact that it's only two weeks.
Detroit
Pistons
guard
Ben Gordon
, who has personally attended labor negotiation sessions, sees two weeks as just a tip of the iceberg.
Indeed, the Detroit Free Press reports
that Gordon is measuring the length of a potential work stoppage in years, not weeks.
"I think there will be more games missed," Gordon said when reached by phone as he was driving to Chicago. "I expect it might be a year or two. I realized that when I was listening to both sides during the negotiations. I think there will be a lot of games missed and more money is going to go down the drain.

"It just seemed scripted, and they were going through the motions," said Gordon, calling it a valuable learning experience. "Sitting there in front of them you could tell they weren't focused on getting a deal. I still don't know the purpose of those meetings."
Earlier Wednesday
, we noted that New York
Knicks
forward
Amar'e Stoudemire
discussing possible contingency plans "if [the lockout] goes one or two years."
So what's up with the timing and the extended timelines? There are a few factors at play here.
First, there's a psychological weight to the official cancellation announcement. While both players and media members had months to think about the possibility of cancelled games, there were hopes and reports that NBA commissioner David Stern might decide to simply postpone the first two weeks of the season rather than outright cancel them. There was an idea that, if enough progress could be made, order could be restored in a fairly short time frame. Those thoughts ended when the cancellation -- delivered with an apology but no waffling -- came down on schedule. Once games are cancelled, the mind opens up fully to all of the nightmare scenarios that had been disregarded previously. Suddenly, everything is on the table.
But this talk about a lost season isn't just a matter of mind games. It's also a reflection of the owners' refusal to budge meaningfully from their hard-line position. The players know now, once and for all, that the owners were not, in fact, bluffing in their desire to re-make the financial system that governs the NBA. Ownership's proposals, once ignored or cast aside as laughable or out in left field, now have to be taken that much more seriously. Without any obvious back-up plans, the players are coming to public terms with the possiblity of a seriously long labor battle. That's not necessarily a bad thing.
Finally, there's an element of expressed solidarity at play here too. Merely by discussing the possibility of multiple lost seasons, the players signify that they are ready for a long fight, that the first missed paycheck in November won't radically alter their bargaining position. That may be true for Stoudemire ($82 million in career earnings) and Gordon ($42 million in career earnings), but it's not yet clear whether a majority of the players union, most of whom do not have access to that type of savings and earning power, will feel the same way.