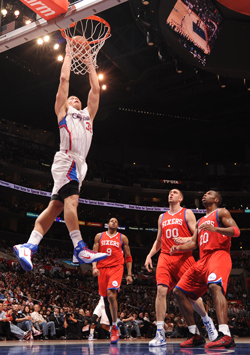 Posted by Royce Young
Lost games do a lot of things. It ticks off fans and it loses money for both players and owners. But that's just the obvious stuff. Losing games has an underside that affect a number of different things. One being player appeal and marketability. Which if you weren't paying attention, is one way players make a hefty part of their income.
Via USA Today
, the lockout has already had a pretty major impact on players' marketability and that's before games were even being missed.
It appears that established, veteran players are stable. The younger ones, however, are taking most of the hit from consumers. According to Henry Schafer, executive vice president of The Q Scores Company which measures consumer appeal of athletes and other personalities, the rating for Blake Griffin, Derrick Rose, John Wall and Danny Granger dropped from an average of 21 in March to 14 last month. Dirk Nowitzki was the only NBA player with a better Q score (from 18 to 25 during the same span), a likely reflection of winning his first NBA title with the Dallas Mavericks. He also hasn't been active in the lockout.
And like I said, that's without even a single game being lost yet. That's just from a few dark summer months. So imagine what's to happen if the lockout starts dipping its toe into December, January or even more. What were once shining beacons of the league, players like Griffin,
Kevin Durant
, Rose and John Wall will see their profile drop dramatically.
Which is something the league thrives on. Whether the league wants to admit it or not, the NBA is a league of stars and right now it's in a great place in that department because there are 20 or so young players with a bunch of starpower. But set their profile and appeal back and not only have you hurt their endorsement opportunities, but you've always indirectly damaged the faces of the league.
Without games, people kind of just forget. Without Griffin's dunks highlighting SportsCenter, without slick Rose YouTube clips of him breaking ankles making the rounds all over the Internet, the casual fan will put their time, and money, into other things. The NBA has always taken a back seat to the NFL until February. You can only imagine how far that seat will be back if the NBA's not even playing games.
With lost games, there's a laundry list of ramifications. You know the league -- and the players -- know all about what's coming as a result. As David Stern said, enormous consequences.