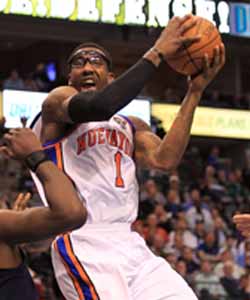 By Matt Moore
The players truly believe that they
are
the league. Not the franchises, logos, stadiums, coaches, management, or the game itself. And no, not the fans, though they do believe the fans are vital, obviously. No, they think the National Basketball Association is made up of players and it is the players who are the product. That's where the belief that they are entitled to more than 50 percent of the BRI comes from. And it's not bad logic, truth be told. It's debatable, but a sound starting place.
To that end, there have been discussions that, basically, if the owners are going to take away their league, the players will just start another. And lookee here,
Amar'e Stoudemire
's right on time promoting his new shoe (and throwing
teammates under the deoderant bus
, apparently) to chime in with where he sees things going if the lockout isn't resolved. From the New York Post:
Amar'e Stoudemire said last night if the NBA lockout wipes out the season, he believes the players will form their own league instead of trying to catch on in Europe.

"If we dont go to Europe, we're going to start our own league, thats how I see it," the Knicks forward said. "It's very serious. It's a matter of us strategically coming up with a plan, a blueprint and putting it together. So we'll see how this lockout goes. If it goes one or two years, we've got to start our own league."
via
Knicks Stoudemire says players will start own league - NYPOST.com
.
Setting aside the outright horror of that phrase "one or two years," it's not surprising that Stoudemire would go this route. He's an idealist, a dreamer (but he's not the only one). The players harnessing their own value and starting their own league sounds like a great idea. And it would be, if they had a consultant group to handle the entire process and a two year window just to get things operational.
The big X-factors in this discussion are two entities. Nike and ESPN. Both companies have enough invested in the NBA and its players to create a paradox for themselves. They could benefit tremendously from putting the players, particularly those in the Nike stable, on a massive stage they themselves create, and have the industry connections to create a functioning league. They simply have the resources. At the same time, both enjoy a relationship with the NBA, one that they'll have to maintain after the lockout ends. They can't help the players here because they need the league and they can't help the league because they need the players.
Stoudemire did go on to say that he believes the lockout will end after the two weeks are lost, which is a nice thought. But after the events of the last week, it's hard to see either of Amar'e's dreams becoming a reality.