Posted by Ben Golliver.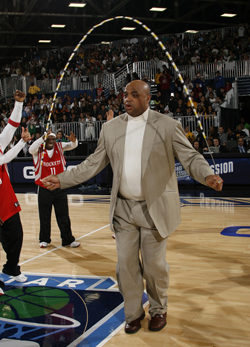 The NBA can be a nepotistic, incestuous place, with former players finding themselves -- or their family members -- jobs as coaches, assistant coaches, team executives, league executives, team ambassadors, and, of course, commentators.
That final occupation is where basketball Hall of Famer Charles Barkley has made a fabulous second career, carving out a niche as the league's most popular and recognizable television voice on TNT.
The high-visibility position and the respect Barkley has around the league gives him a unique perch during the ongoing labor negotiations. Barkley has predicted for months that the NBA and its players will be unable to resolve their ongoing labor negotiations in time to save the 2011-2012 season and it sounds like he isn't totally comfortable where he is sitting right now.
ESPNChicago.com reports
that Barkley recently told a Chicago-area radio station that he is considering donating his salary to charity during the lockout.
"I haven't told anybody, but I'm actually -- believe it or not -- I'm leaning toward donating it to charity," Barkley said on "The Waddle & Silvy Show" on ESPN 1000. "I don't think it's cool for me to take money I haven't earned.

"My decision is either going to be defer it or give it to charity."

"The problem I have is if these guys hold out all season, it's going to be a lot of money," Barkley said."That's why I have to make that decision. I haven't made the final decision. I don't feel comfortable taking money for not working. I'll either defer it or give it to charity."
To be clear, Barkley is not framing this as a solidarity move with the current players. He's not saying: "I won't make money off of their labor struggle" or "I won't get paid until they get paid."

Instead, he's simply saying: "TNT wouldn't be getting their money's worth from me and that's not cool." That's a whole different stand to take. Less labor union cruasader and more old-school pride and practicality. It makes you think that if players like Eddy Curry or owners like Robert Sarver looked at their performance in the same way, we might not be up such a creek with regard to the labor negotiations.

But in the world of guaranteed contracts and billionaires requesting bailouts, Barkley's sentiment is rare indeed. If he truly doesn't feel comfortable depositing the checks, charity is the right call. I'm not sure that anyone would lose respect for Barkley if he simply kept his money, but no one in their right mind, in this economy, could find fault with the generous gesture that he is contemplating.