Posted by Ben Golliver.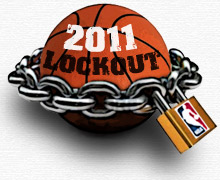 The National Basketball Association and the National Basketball Players Association concluded more than seven hours of meetings on Monday in New York City without reaching an agreement on the framework of a new collective bargaining agreement. As such, Ken Berger of CBSSports.com
reports
that NBA commissioner David Stern canceled the first two weeks of the 2011-2012 regular season, spanning from Nov. 1 to Nov. 14.
Berger
reports
that Stern said that a "gulf" still separates the owners and players in their negotiations and that the two sides are "very, very far apart on virtually all issues."
Stern also confirmed that the cancellation of the first two weeks will prevent an 82-game regular season. In other words, there isn't sufficient time available later in the calendar to make up the cancelled games.
There are currently no further talks scheduled, Stern said, but the sides will continue to communicate.
Stern was joined in Monday's negotiations by NBA deputy commissioner Adam Silver and a number of owners and legal advisers. The NBPA was represented by president
Derek Fisher
and executive director Billy Hunter, among others.
Berger reported that league officials saw a number of sticking points, including: "contract length, length of CBA, use of exceptions by [luxury] tax-paying teams and [the luxury] tax levels and the frequency of the [luxury] tax." Those are all significant issues that will require extended negotiation to resolve.
Fisher
mostly stuck
to what has become his mantra in recent weeks. "I continue to believe that we've been more than fair and reasonable in our approach," he said. "This is what we anticipated would happen, and here we are."
He also admitted the pain of lost salary will be felt by his constituency. "Obviously not a good feeling for anyone, " Fisher said."This is not just about dollars and cents for players. It's about a system for our guys to operate under."
Hunter maintained that the lost income will not shake the players' solidarity. "Unfortunately, maybe we need to miss a few games for them to know there's resolve among the players," he said,
according to Berger
.
The NBA issued the following press release on Monday evening to formally announce the cancellation.
The NBA announced today that it has canceled the first two weeks of the 2011-12 regular season because a new collective bargaining agreement has not been reached with the National Basketball Players Association. This cancellation includes all games originally scheduled to be played through November 14.

"Despite extensive efforts, we have not been able to reach a new agreement with the players' union that allows all 30 teams to be able to compete for a championship while fairly compensating our players," NBA Deputy Commissioner Adam Silver said.

Refunds plus interest are available for all NBA season-ticket holders for all preseason and regular-season games that are canceled.
Earlier Monday, the NBPA
launched a Twitter campaign
called "Let us play," hoping to curry public favor and maintain solidarity amongst its ranks.
Monday's meeting was an extension of last-ditch talks that began Sunday afternoon. Stern set Monday as the deadline for cancelling the first two weeks of the season when talks broke down on Tuesday of last week.
This post will update with the latest on the NBA lockout.