Posted by Ben Golliver.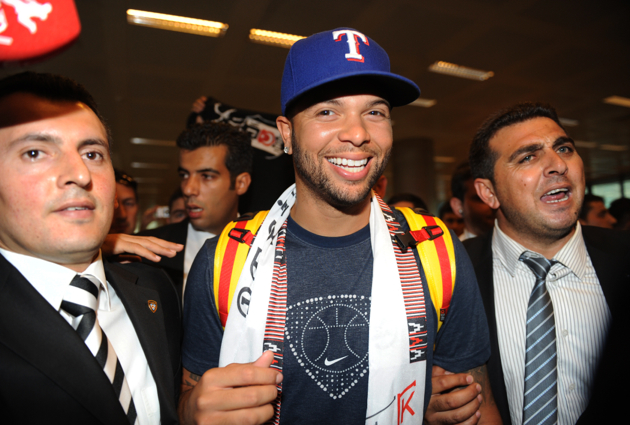 A few days back
, we noted that New Jersey
Nets
All-Star point guard
Deron Williams
, who signed to play with Besiktas of Turkey during the ongoing NBA lockout, is struggling to adapt to the European game.
On Friday, Williams
penned a diary entry on ESPN.com
in which he discusses the transition to Besiktas. He notes that its a great bonding experience for his family, that he's still getting used to the spacing of the European game, that he's slowly building chemistry with his new teammates and that he's still getting back into 5-on-5 game shape.
All interesting details. But the following was buried at the bottom, and it sure jumps out.
The arena we play at seats 3,200 people max, so it's not quite the same environment of an NBA game and it hasn't been full yet because these aren't the really big games. Once we start the Turkish league games, it will be different, I think. But the fans that have been at the games are really good fans. They're really into the game nonstop from tip-off and knowledgeable about it. They've been great to play in front of.
Yes, you read that correctly. A high-profile NBA All-Star who is arguably one of the top 10 basketball players in the world cannot fill a 3,200 person stadium while playing for one of the higher-profile international professional teams. Williams isn't necessarily a high-flyer, but he plays an exciting game, boasting great vision, an array of attacking dribble moves and an ability to finish in a variety of ways. He's one of those guys near the top of the list of NBA players you would "pay to see," as the saying goes, yet he's drawing a crowd that is no more than 20 percent of an averge NBA crowd.
There's certainly value in landing a high-flight player like Williams, and perhaps Besiktas has some incredible marketing campaigns going on outside the arena to further capitalize on his presence, but it's fair to wonder whether they are getting their money's worth on the multi-million dollar contract they reportedly paid him. Ticket sales are the bread and butter of basketball economics. That base generally needs to get covered if you hope to recoup a major salary investment like the one Besiktas and its sponsor made in Williams.
On the bright side, at least Besiktas is outdrawing the Las Vegas "Lockout League," which struggled to bring in 50 fans on some days. In the end, Williams' experience is Turkey is simply further proof that the NBA and its players badly need each other to reach their respective economic best interests.