Posted by
Ben Golliver.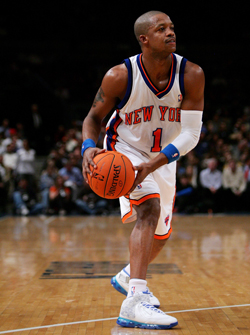 Infinitely wise advice from the rapper Nas: "Watch them [people] that be close to you."
Those words should have been heeded by a number of Washington, D.C. area professional athletes who were taken for a million-dollar ride by their crooked sports manager.
The Washington Examiner reports
that a D.C. manager who worked for multiple NBA players and a prominent heavyweight boxer copped to misusing and pilfering millions of dollars generated by his clients.
Nathan A. Peake, 41, of Silver Spring, admitted in federal court in the District that he didn't file tax returns from 2000 through 2007 and diverted about $5.8 million in management and agent fees from his business to personal accounts.

He also admitted to misappropriating proceeds from a $3.5 million line of commercial credit that one of his athlete clients guaranteed and paid off.

"Nathan Peake's efforts at tax evasion were much less successful than the careers of the professional athletes he managed," said U.S. Attorney Ronald C. Machen Jr. "Today's sentence sends the unmistakable message that everyone -- especially those bringing in millions in income -- must pay their fair share."
There's nothing quite like a good lawyer zing. Or a bad lawyer zing for that matter.
Among Peake's clients, the paper reports, were Denver
Nuggets
point guard
Ty Lawson
and former NBA All-Star Steve Francis.
Francis raked in more than $103 million in salary during a 9-year NBA career playing for the Houston
Rockets
, Orlando
Magic
, and New York
Knicks
. Most recently, he
played professionally
in China.
Lawson is still on his rookie deal with the Nuggets and has career NBA earnings of less than $3 million. Back in August, he
signed to play
professionally in Lithuania.
Hat tip: @NZbeFree