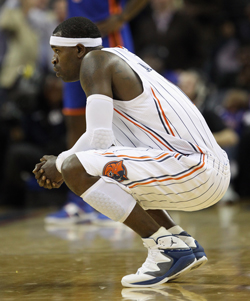 By Matt Moore
The NBA Lockout is frustrating for everyone. The owners don't have a team to meddle with and ultimately ruin. The fans don't have a team to not attend preseason games for. And the players don't have a game to miss due to an injury they could easily play through. It's rough. Oh, and the employees... wait, no, don't have a snarky joke for them, it actually is terrible they're out of work over this.
But anyway, you've got to do something to get through these dark times. And
Stephen Jackson
? He's turned to his art. Jackson
released a rap video this week
(WARNING: as you can probably guess, the song is NSFW) from what he says is an album called "What's a Lockout?" and the entire video is laced with ESPN commentary on the lockout. It also starts with the phrase "F*** a lockout." That's right. Stephen Jackson, has a rap song about the lockout. And it's filled with killer lines like these, courtesy of Cardboard Gerald's blog:
I go hard as a crowbar to your glass jaw

Speaking of my pace, I maneuver like a NASCAR

Speed by ya since you're moving like a grandpa

I ain't stuntin' on ya, I'm just sayin' man, my swag's raw
via
Stephen Jackson's Hip-Hop Debut (NSFW) | Everything's Coming Up Cardboard Gerald!
.
Am I the only one who finds it amusing that the lockout inspired Jackson to make a rap song? It's so "Artest 2005."
In all seriousness, Jackson continues to walk that line that is seemingly untenable. He's at the same time a highly respected teammate, a borderline star, a veteran leader, and a player the younger guys look up to, and the kind of guy that drops an expletive filled gangster rap song on a whim after appearing in another video earlier in the summer. He's not defined by anything the league or anyone else wants him to be, he's authentic and original. And hey, look,
Bucks
fans, he mentions your team, too, despite not wanting to be traded there!
Let's talk money, homie; what you sayin' bro?

My pockets keep bucks like the same team I'm playing fo'
via
Stephen Jackson's Hip-Hop Debut (NSFW) | Everything's Coming Up Cardboard Gerald!
.
Well said, CapJack. Well said.