Posted by
Ben Golliver.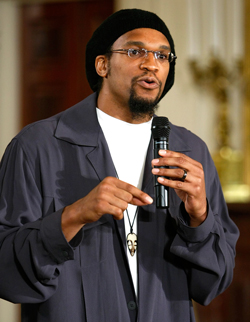 And now for something different.
Etan Thomas
, the National Basketball Players Association's executive first vice president, has
penned a letter on ESPN.com
in which he puts himself inside the mind of the NBA's owners.
The letter argues that owners believe that the fans will take their side, that the owners don't think they have to negotiate because the players will "self-destruct" and "start caving" once paychecks are missed in November, and that the owners don't feel the need to explain their financial losses in meaningful detail.
We haven't budged drastically from our original proposal because, quite frankly, we don't feel we have to. We're just going to sit back and wait for the players to self-destruct while we stick to our position...

We also do not believe the players will stick together once they start missing their paychecks. It's easy for them to speak the language of solidarity and unity now. It isn't difficult for them to come to our negotiating meetings and take cute little photo ops with their matching "stand" T-shirts now, but we fully expect to see them caving once their paychecks stop coming in. We believe they are going to come crawling back to us for whatever deal we give them, almost like a strung-out addict who will do anything for the next fix. We are the ones who can scratch that itch for them, and they won't care about the particulars of the deal then. They will just want something so they can return to playing. And at that point, we'll give them an even worse deal than they would've received when they weren't desperate.

And we're gonna do it because we can.
All in all, this is a very cogent analysis of the situation. Thomas wraps up the letter by preaching that player solidarity is the only way to resolve the ongoing labor standoff.
If we can get players to fragment and their walls of unity and solidarity to come tumbling down, we will win. The only fact that is relevant is this: If the players don't stick together, we will crush them. Period.
In the past, we've wondered whether the players truly understood the challenge facing them in these negotiations. It's clear from this letter that Thomas, for one, understands exactly what the NBPA is up against.

This letter winds up serving as a well-timed rallying call to those players who might be thinking about jumping ship or leaping to accept a compromise so that no regular season games are missed and no paychecks are sacrificed. Of course, money always speaks loudest. If a season-saving deal is to be reached by Monday, it will require further concessions from the players, and it will take the union leadership to negotiate those concessions and then a majority of the rank-and-file to ratify them before the season can be saved.

Are both of those things possible if Thomas's message of unity is to be truly heeded? I suppose we'll know the answer to that by Monday.