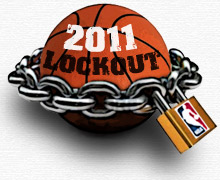 Posted by Royce Young
That dirty d-word has been lingering in the thoughts of agents and players since the league locked out its players July 1 -- decertification. And with that scary letter that seven perceived "super" agents sent out last week urging it, there appeared to finally be some momentum towards it.
Billy Hunter has long said decertification hasn't been something on the table for the players.
Derek Fisher
has agreed. But the agents are getting antsy and they want the players to start using every tactic in the book.
And with Ken Berger reporting Wednesday
that those seven agents were working on a conference call, it seemed like they were going to discuss what measures to take. Except that's not the case,
according to ESPN.com
. The agents aren't talking dercitification anymore. They're just talking tactics. Supposedly.
One of those agents is Leon Rose who reps a number of big name players. And one of Rose's clients is
Richard Hamilton
, who isn't all too happy with Rose pushing against the union. According to the report:
Chauncey Billups said a few weeks ago that if his agent, Andy Miller, were pushing for decertification that he would sever their working relationship. And sources say Richard Hamilton, Billups' former backcourt mate in Detroit, is just as pro-union as Billups.

Hamilton told his agent, Leon Rose, that he is upset about Rose's participation in the letter and that he will leave him and take other players with him if Rose doesn't divorce himself from the anti-union agent group, according to a source.

Rose did not return a call seeking comment.
Things tend to get messy when the finish line is in sight. Everyone is pushing for a good conclusion, one that favors their constituency. No one wants to take a bad deal and so these agents are just being agents and trying to slime out the best deal possible for their clients. Figures.