Posted by
Ben Golliver.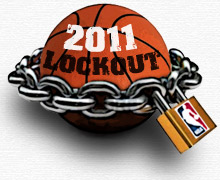 Note (1:57 a.m.): This post has been updated to reflect new information
.
Kaboom. The agents are at it again.
In the latest signal that the NBA labor negotiations are doomed, at least in the short term, six influential agents have issued a letter to their clients on Monday advising them not to agree to any labor deal that requires the players to take cuts in compensation.
ESPN.com reported
that the agents are advising players to hold a firm line on the issue of the Basketball-Related Income split.
The owners have held firm to chopping the players' share of BRI from 57 to 46 percent since negotiations began, union director Billy Hunter acknowledged after lengthy talks over the weekend were largely fruitless.

Sources say the letter, a copy of which was obtained from a player who received it, was jointly composed by Arn Tellem of Wasserman Media Group; Bill Duffy of BDA Sports; Dan Fegan of Lagardere Unlimited; Jeff Schwartz of Excel Sports Management; Leon Rose and Henry Thomas of Creative Artists Agency; and Mark Bartelstein of Priority Sports and Entertainment.
ESPN.com believed the letter advocated no movement past the current 57 percent BRI split for the players. Later Monday,
SI.com also obtained the letter
(read it
here
) and reported that it advises players not to accept any reduction past the 52 percent level that has been negotiated in talks that have been ongoing for months.
Back in September, NBPA president
Derek Fisher
sent a letter
to all players urging unity and specifically called out these agents. Here's his reward. Anarchy at the worst possible time.
The agents are saying to their players, in effect: "We know your interests better than the union does." This letter undercuts the strength of Fisher and NBPA executive director Billy Hunter by revealing a clear rift.
As mentioned on Saturday night
, October comes down to one word on the players' side: resolve. Just two days later, we are presented with a blatant signal that powerful factions of the NBPA are not on the same page. At all.
If we take the 57 percent reading as accurate, the agents are telling their clients not to approve concessions already made by the NBA in negotiations, totally cutting the legs out from under the NBPA leadership. If we take the 52 percent reading as accurate, Fisher and Hunter are left with no room to further negotiate with the NBA owners, who, up to this point, have made it clear that 52 percent is "miles" away from getting a deal done. That reading still turns the letter into an attempt to transform the NBPA's most recent offer into its final offer. That's still serious undercutting, although clearly not as bad as if the demand is at 57 percent as was previously reported. How, exactly, are NBPA officials supposed to enter the most important day of negotiations with one hand tied behind their backs?
Meanwhile,
Yahoo Sports quoted
one agent on Monday: "We're not just walking off the cliff with (Billy Hunter). We're ready to take the next step and decertify. We're not going to let the league set up tomorrow's meeting as a way to trap us into a bad deal."
Whether or not the actual advice in this letter is heeded, the mere fact that it was sent represents a step backwards in the negotiation process, and it comes at the worst possible time. The NBA and NBPA will continue talks in New York City on Tuesday in what could be the last session before regular season games are canceled. If the union does not have both the desire and authority to make significant concessions, and it appears that it has neither, a delayed start to the regular season is unavoidable.