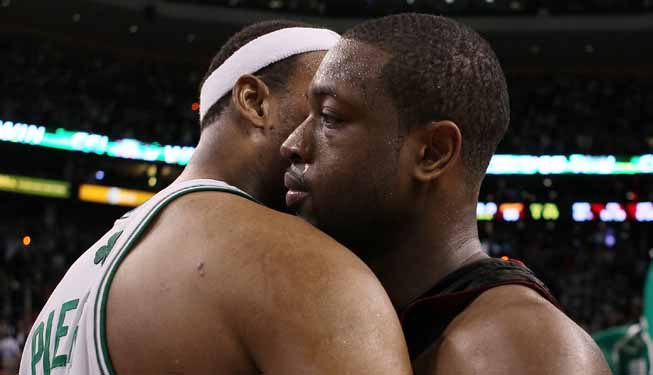 By Matt Moore
The NBA Lockout is ruining some of the favorite illusions of fans. It really is entirely about the money. The owners are reasonable men. The players have global appeal. Stuff like that. But perhaps nothing is more crushing than realizing that the
Celtics
and
Heat
don't actually hate each other. According to the
New York Post
, after
Dwyane Wade
went all Jordan '99 on David Stern Friday, there were no walls between the rivals. From the
Post
:
The NBA stars were in NYC this past weekend to take part in bargaining sessions to try to settle the lockout, but it didn't stop them from enjoying a late night out. On Friday night Carmelo Anthony held court, playing host to Miami Heat's LeBron James and Dwyane Wade, Boston Celtics' Paul Pierce and Ray Allen, taking the guys to the five-year anniversary party of Meatpacking hotspot Tenjune. The basketball greats were treated to a DJ set by Swizz Beatz.
via
Carmelo Anthony hosts fellow NBA stars LeBron James, Dwyane Wade, Paul Pierce and Ray Allen at the five-year anniversary party of Tenjune - NYPOST.com
.
The report also states the quintet was in "good spirits" as it partied the night away. So that whole "we're probably going to miss a season" thing must not be bumming them out too much.
It's a relative surprise to find these players hanging out. Video from the NBA's "The Association" series showed a clear divide between the clubs at All-Star Weekend, which was corroborated by multiple sources. In short order, it was thought that the Celtics had a genuine distaste for the Heat and their antics. But then, this also shows the foolishness of believing that on-floor rivalries translate to off-the-floor. Just as the Heat went to party with the
Mavericks
after beating them, the Celtics have now partied with the Heat that eliminated them.
It should be noted that
Kevin Garnett
was reportedly not with the group. Whether that's because he was not in New York or whether he wasn't invited since all he does is yell at the waitresses, D.J. and everyone else is not known at this time.
(HT:
SBNation
)