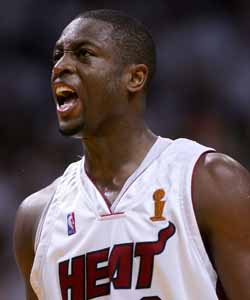 By Matt Moore
Dwyane Wade
spent the week
shilling for an on-court traction product
. It was very Bruce-Banner-y. He did a wide range of interviews for the product, talked about the
Heat
, flashed that Wade smile, did the whole publicity tour. Wade had been quiet for months regarding the lockout. He hadn't appeared at any of the Pro-Ams. He hadn't been a presence at the meetings. He hadn't been aggressively supporting the union in front of or away from the cameras. In short, some were beginning to wonder where Wade was in this whole lockout landscape, the silent superstar in a league full of big moneymakers who seemed to be just looking out for themselves and enjoying their summer.
Kobe Bryant
,
Chris Paul
(who serves on the union's executive committee) and
Kevin Garnett
seemed to be the only leaders from the star contingent.
Then Friday came.
And Dwyane Wade took a flamethrower to the whole damn place.
It started early when Wade gave an interview to Yahoo! Sports' Adrian Wojnarowski, and discussed, essentially, being an underpaid superstar. Wade's understanding of the earning power of superstars in the NBA wasn't off factually, even if the timing was questionable. It was a high-impact interview with a high-impact reporter that set the tone for the day. And Wade was only getting started.
Next up, he drops comments across the board regarding the fact that the players "
may lose a season
." It was an odd and seemingly out of place set of comments considering the importance of getting a deal this weekend. Wade was essentially taking a hard-line position of saying "We want to play, but don't think we're not willing to lose the year just to get a deal." This from a player who notoriously is careful to avoid controversy. He's taken on a lot of flak this year as a member of the Heat from the backlash from "The Decision" and the formation of the Triad on South Beach, but Wade has always been popular with reporters for providing sound bytes without ever getting in trouble. He rarely if ever comes under scrutiny for his comments, and here he is being up front about the realities of the talks after saying that he's not getting paid what he could.
Then there was the meeting.
Ken Berger of CBSSports.com confirmed that at one point Wade stood up to David Stern's aggressive speech to the players. ESPN reported a direct quote from Wade:
Source: David Stern pointed his finger at players while talking. Wade shouted, "You're not pointing your finger at me. I'm not your child."
via
Twitter / @RicBucher: Source: David Stern pointe ...
.
What the...?
Where's the baby-kissing, hand-shaking, lovable Dwyane Wade we've come to know? Where's the meek and mild player that no one was loooking to for leadership? Apparently all it took was Kobe Bryant having prior commitments with Nike in Europe to bring the Warrior Wade to the front... with a blowtorch.
Consider this, from earlier
this week
on the
New York Times
NBA blog Off the Dribble:
Wade said he has been in regular contact with Billy Hunter, the executive director of the players union, about the state of negotiations. But he said he felt no need to join the meetings himself, and he shrugged off the criticism directed at superstar players for their lack of involvement.

"That's a silly thought," Wade said. "I've been in a few meetings — I've been in three or four meetings myself."

But none of the league's top players have been a regular presence since the lockout began July 1, with the exception of Chris Paul, who serves on the union's executive board. It has been suggested that a greater presence by the game's superstars could push the N.B.A. toward a deal. Wade disagreed.

"The negotiation is the negotiation," he said, adding: "We've been in there. Not only have they said their shpiel, we've said our shpiel, we've listened. We've taken notes. We've done all this. And we believe in our players association."
via
Negotiations Don't Need a Star Presence, Wade Says - NYTimes.com
.
In two days, we've gone from Wade saying there's no reason for the superstars to be more active, to Wade himself aiming at the commissioner of the NBA to get his finger out of their face. Something happened, and it's likely not a coincidence that Wade suddenly came off the leash. The Players' Union needed someone with a big name and a face to come out guns blazing, to pull a Jordan '99 and Wade was the man to step up. For all the flak the Heat have taken, Wade is as respected as they come, and his foot forward spoke volumes.
The players needed someone to go rogue and play bad cop.
Dwyane Wade pulled out the billy club on the start of the most serious negotiations in the entire process and started swinging from sun up to sun down. We'll have to see if this galvanizes the union to stick together, or if this came off as empty rhetoric from a player not representative of the league's primarily roleplayer whole.
Finally, consider this report from a Miami-based reporter who spoke with a player to gauge reaction to Wade's outburst Friday.
Just spoke to an NBA player not in today's meeting. Said "400 guys in our league have a new favorite player tonight, and it's Mr. D-Wade."
via
Twitter / @ByTimReynolds: Just spoke to an NBA playe ...
.
To quote a popular song for NBA players, "Say hello to the bad guy."