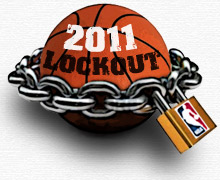 Posted by Royce Young
Typically the way gambling works is that you bet on the outcome of a game. But in this case, you can throw down some money on there not being any.
Bodog.com has released their odds
on how many games the NBA will play this year. All 82? That's 8/5. Somewhere between 51 and 81 games? 4/1. Just one to 50? 3/1.
But the best odds? Bad news everybody: Those are set at 5/4. So Vegas doesn't see a season happening.
Question is: Where's the smart money at? I'm already in the camp that the season's starting on time, so I would go with 8/5 on all 82. I definitely wouldn't not go for one to 50. With David Stern's apparent threats and the inkling to just cancel the whole thing once a lockout dips in January, I don't see that happening.
But 51-81 seems like a safe bet. With the positive momentum right now, it's reasonable to see the start of the season delayed by a couple weeks, but still getting a good 75 games in or so. And even 51, that would have the season starting in early January, which seems reasonable.
Honestly, the worst bet to me is on the season being cancelled. I'm an optimist when it comes to this through and through, so I don't read into a lot of the doom and gloom statements. The league's looking at a big weekend with important meetings on Friday and possibly Saturday and Sunday. So it might be best to wait until Monday to lay down anything on it.
You know, if gambling were legal and all.