Posted by
Ben Golliver.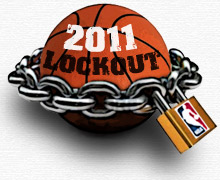 When reports broke that the NBA owners had finally moved off of their insistence on a hard cap, you knew that there was going to be a catch and that the other shoe was eventually going to drop. A major systemic concession like that -- even if it's not really a concession because the players have already negotiated a soft cap for themselves in previous labor deals -- was going to require givebacks or changes in other areas.
ESPN.com reports
that those changes could include: the elimination of sign-and-trades, a beefed up amnesty clause, a stronger luxury tax system, a cutdown in the mid-level exception and other moves aimed at either cutting down on wasteful spending on player contracts or reducing a player's leverage in determining his free agency options.
Perhaps most interesting, the site reports that the NBA proposed adding a new "Carmelo Anthony Rule" that would "prevent teams -- as the New York
Knicks
did in February with Anthony -- from using a Bird exception to sign or extend a player acquired by trade unless they are acquired before July 1 of the final season of the player's contract."
Now this is an intriguing idea.
The benefits are obvious. The Denver
Nuggets
had their season hijacked last year as rumors swirled for months around Anthony's refusal to sign an extension and his desire to get out of town. The headlines were distracting, the news coverage was insatiable, a trade became inevitable and the entire thing was a major, major distraction. Sure, it generated a lot of interest. But it wasn't in the best interest of the Nuggets nor even in the best interests of the teams to whom he was rumored to be traded.
The thought of undergoing such a circus was one factor in the Utah
Jazz
electing to ship franchise point guard
Deron Williams
to the New Jersey
Nets
a year before he was set to come up on his ability to extend his contract. Similar storms are brewing in Orlando and New Orleans, where
Dwight Howard
and
Chris Paul
are in line to control their fate by refusing to sign extensions and potentially have the ability to force their way to a specific destination.
Instituting a "Carmelo Anthony Rule" as described would alter the trade request/demand process. Stars would either need to make their demands early or tough it out until they reached unrestricted free agency. This rule could potentially dramatically reduce the awkward "limbo" that results from months and months of uncertainty when a player has decided he wants to jump ship but the team doesn't want to pull the trigger until it absolutely has to.
Of course, the NBPA will adamantly oppose this idea. The union will argue that Anthony and stars like him do nothing wrong, play hard for their teams, express their desires in a professional manner, have the right to decide where they want to play and also the right to enjoy the full benefits of the free agency process. This rule would be a leverage-killer for stars and would likely, in the end, lead to a decrease in star movement and an increase in franchise stability.
The interesting twist here is that only a handful of NBA players, the absolutely most talented, find themselves able to employ this type of leverage. The average player will never find himself in this position and, in some cases, might even benefit from this rule. Just thinkabout all those Knicks players who were traded in the package to acquire Anthony. Had this rule been in place, they very well could still be in the Big Apple. And they wouldn't have had to answer hundreds of questions about trade rumors or dealt with months of uncertainty about their professional future, either.