Posted by
Ben Golliver.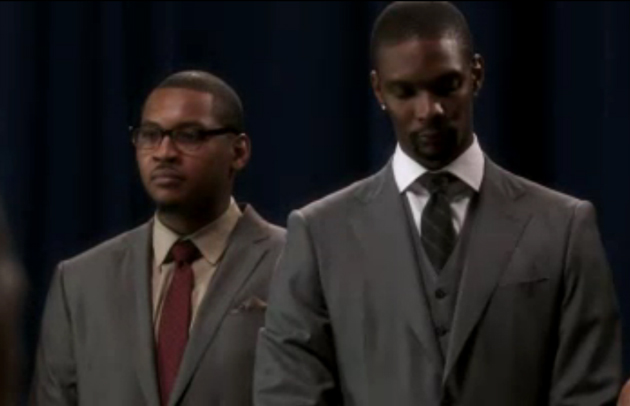 Back in August
, we noted that New York
Knicks
forward
Carmelo Anthony
and Miami
Heat
forward
Chris Bosh
were set to make cameo appearances on the interminable network crime drama
Law & Order: Special Victims Unit
. That happened on Wednesday night's episode, titled "Personal Fouls," when the two All-Stars made brief appearances at the beginning and the end of the show.
The episode opens with Anthony and Bosh heaping praise upon Ray Mathers, their high school basketball coach, at a banquet.
"20 years as coach at St. Valerie high," Anthony begins. "Nine city titles. Four state championships. Runs the Barons, too, his summer league team. He's put hundred of players in college and a dozen in the pros. Look at these fat cats."
The camera cuts to the front and center table, filled with other stars, and the crowd breaks out in knowing chuckles. "He's made more millionaires than Harvard Business School," Anthony continues, to more laughter.
"Prince Miller, his biggest star, couldn't be here tonight," Bosh says next. "But he sent coach this solid gold key that fits any gym in the country."
"But more important than molding players, coach has molded young lives," Anthony picks up again, turning to address Masters directly. "I'm not ashamed to say that I was a stray dog and you rescued me."
"It's our privilege to introduce the newest inductee into the Metro Basketball Hall of Fame," Bosh says finally. "It's Coach Ray, baby."
Coach Ray then begins his acceptance speech which is almost immediately interrupted by an angry former player that he molested. Yes, you read that correctly. The episode and investigation into those charges unfolds over the course of the show, eventually climaxing when Miller, the big basketball star mentioned by Bosh, calls a press conference to acknowledge that Masters sexually abused him for years when he was a teenager. During Miller's confession, Anthony and Bosh are shown wearing suits, looking on in quiet support.
Here's a look at the video of the episode
courtesy of NBC.com
.
Top image via video at NBC.com.