By Matt Moore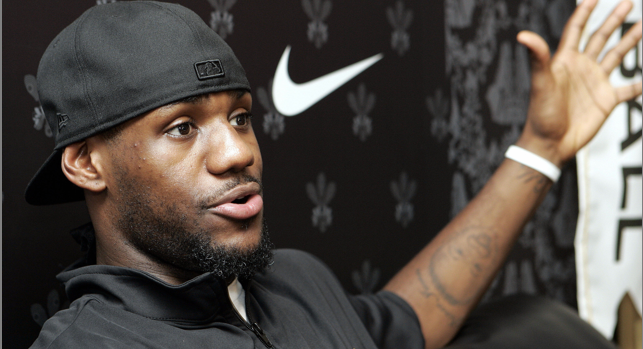 In August, we had a little fun with the fact that right after
LeBron James
' Nike brand announced deals with the University of Miami and the Ohio State University, those schools subsequently got nailed for massive violations. Despite the fact that we outright said we weren't serious and we were just goofing, most of our commenters didn't quite get it. They probably won't get this one either.
Back in April,
James completed a deal with the owners
of the Boston Red Sox for representation rights in exchange for a minority share in the Liverpool FC European football club. The Red Sox subsequently got off to a 2-10 start. This after one newspaper thought they were the "
Best Team Ever
." And after a strong recovery, the Red Sox completed an epic collapse, even in their storied history, losing to the Orioles as the Rays came back to beat the Yankees,
eliminating Boston from the playoffs
.
Someone brought this up on Twitter, to
The Big Lead
.
@TheBigLead In april lebron deals with the owner of the red sox. sox dominate until the last month, then choke...it all makes sense
via
Twitter / @DinoNYK: @TheBigLead In april lebro ...
.
So, just to review.
LeBron has "The Decision."
LeBron's Miami Team blows a 2-1 lead in the Finals.
LeBron announces parnership deal with college teams.
Two of the three teams are rocked by major scandals.
LeBron announces partnership with Fenway Sports Group, the owners of the Boston Red Sox.
The Red Sox suffer a terrible start, then recover, only to fall apart in September like a flan in a cupboard, including an unbelievable stomach punch as Jonathan Papelbon surrenders his first earned run in Camden Yards. Ever.
You're likely familiar with a little thing called "
Post hoc, ergo propter hoc
." After, therefore, because of it. Another fun one is "correlation does not equal causation." In short, one thing doesn't necessarily cause the thing that came after it. So no, LeBron James isn't cursed, this is just another in a long line of coincidences that occur every day. You can link the Boston collapse to anything you'd like, any event you can contemplate, from the
ESPN the Magazine
cover to the way the stars are aligned to actual baseball reasons which I'm not aware of because I write a basketball blog.
So, no, LeBron didn't curse the Red Sox.
We think.
Dunh-dunh-dunh!