Posted by
Ben Golliver.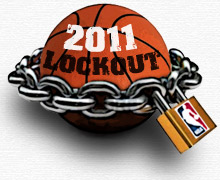 On Wednesday,
CBSSports.com's Ken Berger reported
that NBA commissioner David Stern said that there were "enormous consequences at play" during the next few days of negotiations between the league and the National Basketball Players Association and wrote that, reading between the lines, the entire 2011-2012 season could be in jeopardy if progress isn't made in labor talks this weekend.
You didn't have to read too closely between the lines to catch the meaning from Stern and Silver, who sought to ratchet up the pressure on getting a deal or risk not simply an on-time start to the season, but indeed the whole thing. With training camps already postponed and a first batch of preseason games canceled, Stern said the two sides are "at a period of enormous opportunity and great risk."
Also Wednesday,
ESPN.com reported
that Stern is "planning to threaten" the NBPA with the cancelation of the entire season if no real progress is made this weekend. Here's an excerpt from that report.
When NBA labor talks resume Friday, NBA commissioner David Stern is planning to threaten players with the cancelation of the entire 2011-12 season if the sides haven't made major progress toward a deal by the end of the weekend, according to sources close to the talks.

Although sources said the union views such an extreme stance as more of a negotiating tactic than a legitimate threat, Stern went almost that far in his comments to reporters in New York on Wednesday after a second straight day of negotiations.
USA Today reported
Wednesday evening that Tim Frank, a spokesperson for the NBA, said that the report that Stern has plans to threaten to cancel the entire season is "simply not true."
Meanwhile,
SI.com reported
on Wednesday that Stern "originally told the union that Jan. 7 was the date by which he would have to cancel the whole season."
We all have functioning brains here. The NBA is not going to rashly cancel its season on Monday, not with billions of dollars on the line and months to salvage a truncated season. Cancelation is a worst-case, do-anything-to-avoid-it decision that wouldn't randomly come in early October. Rather, this plan to threaten, if it exists, is meant to provoke the players into bringing a really good offer and a willingness to negotiate to the table. The players certainly get that. This threat, if it were to be made, would be a ploy, or posturing, or whatever else you want to call it. Everybody involved -- NBA, NBPA, media, fans -- understands that.
Ultimately, a denial of a specific plan to make this type of threat is meaningless. Stern already sent the same message, on the record to a cadre of reporters, with his comments on Wednesday. He clearly believes that it is time to start making progess on a deal. Conventional wisdom on Wednesday, prior to the late-night denial, concluded that Stern's statements were meant to imply something like: "Make a deal now because the league's offer will only get worse once time passes and regular season games have to be canceled."
That still sounds right even after the denial.