Posted by
Ben Golliver.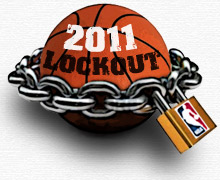 As a society, we owe
The Wire
and
Breaking Bad
many things, but high on our list of debts is gratitude for their poignant, repeated reminder that the lawyers always,
always
, get paid. Maurice Levy and Saul Goodman would surely react with a knowing grin and a tip of the cap to the lawyers who are beaucoup
Bucks
off of the National Basketball Association and the National Basketball Playes Association.
AmLawDaily reports
that the NBPA has paid millions of dollars for legal representation since 2005, and those numbers don't even take into account expenses incurred during the ongoing lockout, which are not yet public.
With neither party in the habit of discussing such matters, a definitive answer is almost impossible to determine. A review of documents filed with the U.S. Department of Labor by the National Basketball Players Association (NBPA) between 2005 and 2010 offers some insight into how much the union, at least, spent on legal fees for the last round of labor negotiations—and a taste of how much it could end up spending on lawyers in connection with the current talks.


All told, the NBPA spent some $2 million on outside legal advisers during the years in question, a period of relative labor peace that followed the implementation in July 2005 of the league's most recent collective bargaining agreement.
Figures for the NBA side aren't disclosed in the report but it seems reasonable to assume that they are spending in a similar ballpark and that both sides have had to ramp up spending in 2011 in preparation for the lockout, which went into effect on July 1, and the actual collective bargaining negotiations, which still have no end in sight.
The report notes that the union's most highly-paid lawyer, Jeffrey Kessler, earned $1.1 million during the 5-year period. Penciling that out to an annual salary of $220,000, you will be relieved to find out that he banked less than the rookie minimum.
Hat tip: Zach Lowe on Twitter