Posted by
Ben Golliver.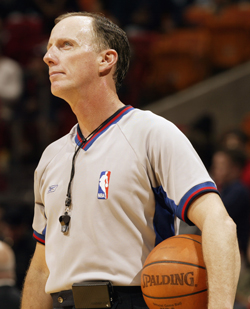 The NBA has had a perception problem when it comes to the fairness and integrity of its referees for decades. Conspiracy theories concerning match-fixing, big-market favoritism, special star treatment only gained momentum when disgraced former referee Tim Donaghy was busted by the FBI for manipulating point spreads at the behest of a gambling ring.
None of that has stopped the league from naming a convicted tax evader as the new head of its officials.
ESPN.com has the details
.
Don Vaden, a former NBA referee and the league's current coordinator of officials, has replaced Bernie Fryer as director of officials, league sources said Friday. Fryer will assume another role, as the change was made to protect Fryer's health and not over dissatisfaction with his performance, sources said.

Vaden was ranked among the league's best referees by the end of his on-court tenure, which ran from 1988-2003. But he was also among eight referees charged with tax evasion in 1998 for downgrading first-grade plane tickets and not reporting the refunded money. He was found guilty and served six months' of home confinement and two years of probation.
In the grand scheme of things, this isn't exactly the worst crime in the world. It's not murder, assault or even a Ponzi scheme. This was a group of hard-working guys finding ways to pocket a little extra dough out of what can be a miserable, marathon travel schedule.
But this was a crime of judgment and this is a high-profile appointment where perception matters. The timing also couldn't be worse. Simply put, the NBA has named a proven tax cheat to head up its group of supposedly impartial referees while it continues to assert that its suffering massive financial losses that continue to be disputed by the National Basketball Players Association during an ongoing lockout.
The whole thing sounds totally unbelievable. And yet, sadly, it's also totally believable at the same time.