Posted by Ben Golliver.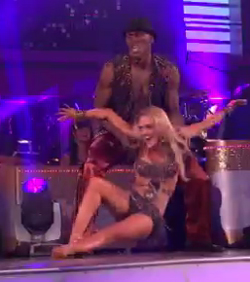 Metta World Peace, the artist formerly known as Los Angeles
Lakers
forward
Ron Artest
, made his debut appearance on
Dancing With The Stars
, which is some sort of nationally televised boogie down popularity contest pairing a celebrity with a professional dancer.
Dancing the cha cha with Peta Murgatroyd, whose name is actually a combination of an animal rights advocacy group and one of the bad guys in Battlestar Galactica, World Peace did not impress the critics.
"Butchering the cha cha, hitting on Brooke Burke, and looking overweight," CBSSports.com's Ken Berger
said on Twitter
. "Ron Artest did himself no favors."
World Peace appeared on stage wearing a black hat, black vest, no shirt and red pants. At one point he pushed his hat off of his head, in a move that vaguely resembled something that Michael Jackson might have done, revealing a dyed blonde crew cut.
In
a promotional video
taped prior to the series premiere, Artest expressed skepticism at the whole idea of his appearance on the show.
"At first I didn't want to do it because of the outfits. I don't like to see my hips being moved in a girly manner. I'm a man, I play defense, elbows, bloody nose on the court, rebounds. And now I'm like dancing, elegance, twinkletoes, It's going to be weird."
Via IAmAGM.com
, here's
video
of Artest's debut performance.
Top image via ABC.com video
.