Posted by Ben Golliver.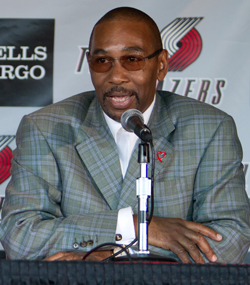 PORTLAND, Ore. -- More than 100 days after "parting ways" with former GM Rich Cho weeks before the 2011 NBA Draft, the Portland
Trail Blazers
have yet to hire Cho's full-time replacement.
Blazers president Larry Miller did finally confirm that the GM search process has progressed in a telephone interview with CBSSports.com on Monday.
"We have talked to and interviewed some candidates," Miller said. "I'm not going to mention any names but we have interviewed candidates."
Yahoo Sports has reported
that the Blazers are eying Oklahoma City
Thunder
executive Troy Weaver, San Antonio
Spurs
executive Dennis Lindsey and former Golden State
Warriors
executive Chris Mullin, while
ESPN.com added
Cleveland
Cavaliers
executive David Griffin and Los Angeles
Clippers
executive Neil Olshey to the list.
Miller refused to confirm any of those names but did say that he has interviewed "more than four" candidates in a "formal" setting. That interview process has yet to include owner Paul Allen, though.
"The process is running smoothly," Miller said, after weeks of refusing to comment about the GM search. "I think we feel good about what we we've gone through in terms of identifying potential candidates. It's gone pretty smoothly. But we're not going to rush, we're going to continue to take our time, with the goal of bringing in the right person that is going to be able to provide some consistency for us."
Miller said that the organization has settled on the ideal criteria of a prospective candidate, as laid out in a vague plan following the announcement of Cho's depature, but he would not divulge what that might be.
"I don't want to get into any of the details, but we have come to an agreement on what the skillset is we're looking for."
Miller has never been the most popular executive in Portland. His failed efforts to restructure and expand the team's television distribution deal and the firings of Pritchard and Cho have made him an obvious target for critics, who say he is now afraid to make promises that he won't be able to keep. Earlier this summer, he admitted that he rushed the hiring of Cho to the detriment of his organization and vowed to avoid that mistake during the current hiring process.
"Our position has been that we are not going to play the search out in the media," Miller said. "I'm going to stick with that position. We are trying to do what we think is best for the organization and bring in the best possible person that we can. That's why we are taking the approach that we are taking. It's not about being afraid to make promises or anything like that."
Even though the process has dragged for an entire summer, there is no clear end in sight. Miller said it was his "hope" that the Blazers would have a full-time GM in place when the Blazers are back on the court, but he passed on the opportunity to guarantee it.
"That's our hope for sure," Miller said. "I'm not going to put any kind of timeline out there. I'm going to stick with that. I'm not going to lock us into any timeline."
He also said the Blazers were prepared to enter a free agency period without a full-time GM, relying instead on Acting GM Chad Buchanan if need be.
"I would hope to [hire a GM before the free agency period]," Miller said. "But we are prepared in the event that we don't. I think Chad and the rest of the team there have continued to work on preparing us for that so once free agency does open up we're going to be ready for it whether we have a GM in place or we don't have a permanent GM in place. We feel confident that Chad and the team will have us ready for that in the event that there's not a GM in place at that point."
The organization's drawn out, cloak and dagger approach to finding a replacement for Cho, who was fired less than a year after former GM Kevin Pritchard was deposed on the night of the 2010 NBA Draft, has worn on many fans in Portland. Miller acknowledged that he is feeling some disengagement with the team's rabid fanbase this summer and that he "definitely" understands their frustration.
"This is always a down time for us anyway," Miller said. "Usually, before training camp starts, things are a little bit quiet in terms of fan interaction. It's kind of typical... There's a lot that we can't talk about right now. Because of that, it is creating some issues with our ability to engage with fans. It is what it is. That's where we are at this point. But I do understand what you're saying [about fan frustration] and I think there is some validity to it."
Even if the Blazers haven't hired a new GM, there have been executive moves: the team's senior vice president of business affairs resigned in June and two long-time media executives were let go in July.
"I would paint those moves as restructuring moves," Miller said. "They were all individual situations. We constantly look at our organization, evaluate it from a structure perspective and decide what changes we need to make."
Finally, Miller confirmed that longtime, popular assistant coach Bill Bayno, who will reportedly join the Minnesota
Timberwolves
to serve as an assistant under Rick Adelman, will not be back next season.
"I can confirm that we haven't re-signed Bill," Miller said. "We are looking to fill that position. That's really going to be [coach] Nate [McMillan]'s call for the most part. I think the way the situation will work, Nate will talk about it with myself and Chad and his other assistants. At the end of the day it will be Nate's call."