Posted by Royce Young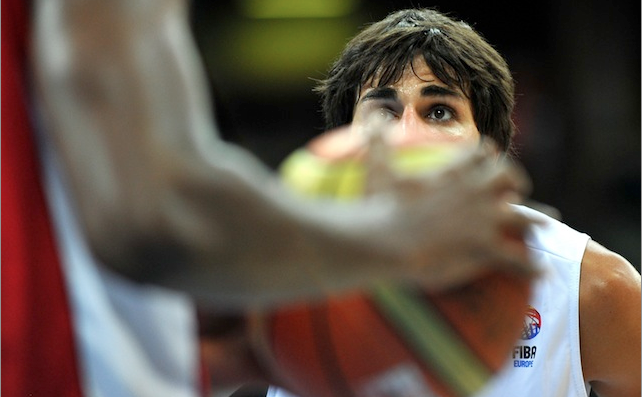 Eurobasket 2011 was about a whole lot more than just a player. It was about a loaded Spain team coming together with an incredibly talented roster to win gold and automatically qualify for the 2012 Olympics. And in the meantime, catch the full, undivided attention of Team USA.
But as has been the case for the past four years or so, we've all remained intrigued with one player that happens to look like Justin Bieber's Spanish doppelganger. Eurobasket provided us the opportunity to take a good, long look at
Ricky Rubio
, who remember, will actually play for the
Timberwolves
this season.
How did he do? Well, judging by his numbers, bad. Very bad. Here are the averages he had during the tournament: 1.5 points, 2.1 assists and 2.5 rebounds per game. With that, he just 23.3 percent from the field, was just 1-for-15 from 3 and made only a single free throw. His best game? Five points, seven rebounds and four assists against Macedonia. And before you ask, he saw a solid amount of playing time in the tournament -- 15.5 minutes per game. (He averaged 1.5 steals per game and was pretty active in passing lanes, which was good.)
Now of course you have to realize where Rubio fit in with a loaded Spain team. The offense basically revolved around the Gasol brothers in the post while Juan Carlos Navarro provided a perimeter spark with his shooting and driving. Rubio's job was pretty much to dump the ball inside and then get out of the way. It's most certainly not the way he'll be used in Minnesota in Rick Adelman's system. And for the billionth time, he's just 20 years old.
Still.
Still.
It's just hard to ignore the latest -- and probably brightest -- red flag in de-hyping Ricky Rubio. Not just because of the numbers, but because we haven't really seen a player that's going to light up defenses with crazy court vision and wondrous offensive control since the 2008 Olympics. And that was just in short three-minute bursts. It's a question of if Rubio can really sustain himself as an NBA starting point guard that doesn't just set up
Kevin Love
and
Derrick Williams
, but also defends
Derrick Rose
,
Russell Westbrook
and
Chris Paul
. At this point, can you picture that happening?
After another buzzkill performance, I have to ask: What exactly is there to be all that excited about? What are we supposed to be seeing that's to make us think this guy will tear up the NBA? I get that he had a few nice defensive games and can steal a few passes, but is that really what the apparent "savior" of Minnesota basketball is supposed to possess? Some quick hands?
He's young, yes. He's still got a lot of time to grow and learn. He could very well be an excellent point guard that takes a little
Steve Nash
flair and a little
Rajon Rondo
court vision and bottles it into a playmaking whiz. It could certainly happen. But at what point are we supposed to see
something
to make us think it
could
happen?
The best thing that could ever happen to Rubio's NBA career just did though and that's Adelman being hired to coach the Wolves. He's an offensive genius that understands and teaches spacing and movement better than anyone. Rubio will be at least a solid point man just by default of the offense and the players around him. Derrick Williams will be good. Kevin Love is a star. And wingers like
Wesley Johnson
,
Michael Beasley
and
Martell Webster
give him a healthy number of options to pass to.
But that's assuming Rubio understands how to assert himself within an offense. It's not just Eurobasket. His European professional seasons haven't been anything impressive either. Last season for Regal Barcelona, he averaged 6.5 points (on 39 percent shooting), went 11-49 from 3 (22 percent) and in the place he's supposed to excel, he averaged just 3.5 assists per game. And that was maybe his best season yet in Europe.
Again, I'm not giving up on Ricky Rubio. I want him to be good. With Adelman coaching, the Timberwolves just went to a lock for "League Pass Favorite" with a lot of NBA junkies. We know Rubio can pass. We know he has a gift in seeing the floor and setting up teammates like he's Xavi, the great Barcelona midfielder. He's got a unique set of skills in him. He's a gifted, talented player and what he can do should work better in the NBA than it has in Europe. But will it ever translate into anything more than a slick YouTube highlight or two? Isn't it getting to hard to ignore red flag after red flag with Eurobasket being the latest?
If anything, Eurobasket's just increased the pressure on Rubio. He's got people like me now staring him down and expecting something good in a very short time. Instead of giving a 20-year-old a little breathing room and time to grow, we're all going to expect five assists a game with one being a dazzling no-look oop every game. We're going to expect Rubio make an impact immediately, otherwise it'll be too easy to say, "I
knew
it! Eurobasket foretold the story!"
What Rubio is facing is maybe the unprecedented situation of being labeled a bust before he even plays a game in the NBA. Not an easy world to be walking into. Thing is, it's not like it's unfair or undeserved. He hasn't done anything to convince someone otherwise.
Rubio played his role for Spain in Eurobasket. Didn't complain, didn't break character, didn't try and do too much just because a lot of eyes were on him. And to his credit, he never has. Even with the pressure of undeniable hype, Rubio has always played his game, no matter how meager it might look in the statsheet. But all that means is that he's got more people expecting him to fail, more people ready to point and laugh at David Kahn. I mean, let's be honest: Kahn's job is riding entirely on the shoulders of Rubio right now. Kahn was in attendance at Eurobasket to watch his young passing prodigy. And you know he probably felt a bit squirmy when Rubio clanged around open 15-footer.
He could very easily be Rajon Rondo. A playmaker that's content with setting up teammates in creative ways while sacrificing any sort of good scoring game. But he could also very easily be a poor man's
Jose Calderon
. One that can't shoot, doesn't pile up assists and doesn't even possess that same kind of annoying intensity. And that's definitely not what you want the supposed savior of your franchise to be.