Posted by Ben Golliver.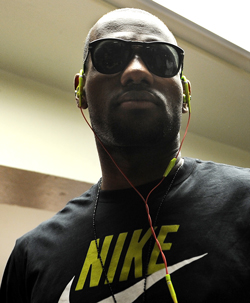 There aren't many stories that turn Miami
Heat
All-Star forward
LeBron James
into a sympathetic character. This is definitely one of them.
Who could forget, back in the summer of 2010, when Leicester Bryce Stovell, a Washington, D.C. lawyer claiming to be James' father, sued James for millions of dollars? The details concerning the relationship between Stovell and James' mother, Gloria, were disturbing, especially considering that he had never been a presence in James' life when he was growing up.
ABAJournal.com had the gory details
.
Leicester Bryce Stovell, a 1980 graduate of the University of Chicago Law School, alleges James agreed to a paternity test, but he or his mother tampered with the results, according to TMZ and the New York Post. A lawyer with Squire Sanders & Dempsey in Cleveland, regional managing partner Frederick Nance, had arranged the test, according to the suit filed in Washington, D.C., federal court.

The suit claims Stovell, now 55, had sex with James' mother, Gloria James, after meeting her at a Washington, D.C., bar in 1984. He later learned she was only 15 years old. She told Stovell she was pregnant but didn't identify him as the father, the suit says.

The suit seeks $4 million in damages and claims fraud, defamation, misrepresentation, breach of oral contract and tortious interference with contract.
So, yes, a lawyer who says he impregnated and then abandoned a 15-year-old girl and his son now wants millions of dollars after the son grew up to be a professional basketball player and global icon. It doesn't get much lower than that.
On Thursday,
ABAJournal.com reports
that a D.C. judge sided with James by tossing out the case.
A federal judge has dismissed a $4 million lawsuit by a Washington, D.C., lawyer claiming to be LeBron James' father. U.S. District Judge Colleen Kollar-Kotelly cited several problems with the suit by Leicester Bryce Stovell, including a failure to show any actual damages.
The Blog of Legal Times with more
.
"Apparently, Stovell believes that companies are willing to pay him for being the father of LeBron James. However, any such recovery would be wholly speculative," Kollar-Kotelly wrote in the 21-page opinion.

Another damage that Stovell claimed, loss of love and affection from his alleged son, is not a "recognizable form of damages in an action for common law fraud," the judge wrote.
Look, if you're James you expect a certain amount of gold digging in your life and you adjust and plan accordingly. But gold digging from your own absent father? Awful.
A majority of society seemingly loves to watch James lose. Here's a situation where everyone can be happy that he won.