Posted by Ben Golliver.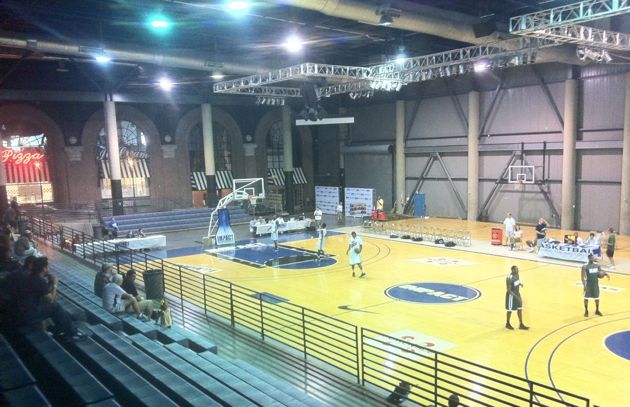 Thursday night marked the end of Week 1 of the Las Vegas "Lockout League" at Impact Basketball. The fourth day of games was probably the week's most spirited, with some new faces upping the talent level and some technical fouls and trash talk livening up the week-long basketball marathon. Here's a quick look back at the week that was and a recap of the day's highlights.
Telfair eyes contender
At 26,
Sebastian Telfair
is now a decade removed from being one of the most hyped high school players of all time. His superstar trajectory never materiaized; Telfair just concluded his seventh NBA season, has yet to make a single playoff appearance and has only played in more than 60 games once in the last four years. A free agent, Telfair hopes all that changes next season.
"I sure do have a list of teams in my mind," Telfair said. "Those teams being one of the teams to make a run for a championship or the teams that are fighting every year for a championship. Seeing Dallas win a championship, congratulations to them, but I'm jealous. I'm extremely jealous. Dallas is definitely on my list. They've got the gold right now. It's not a bad thing in this league to want to go where the gold is. If you can compete and help the team win a championship, that's one of the main focuses in the NBA.
Aside from the Mavericks, Telfair clammed up a little bit as to who was on his radar. "The obvious teams," he finally allowed. "I won't say any teams in particular, but the obvious teams."

Asked what he would bring to a championship contender at this stage of his career, Telfair didn't hesitate or elaborate: "I bring myself. I bring Sebastian Telfair."

Dudley addresses low turnout

As noted earlier Thursday, only 35 to 40 players attended the National Basketball Players Association regional meeting at the Vdara Hotel. That was roughly half of estimates offered earlier in the week. Phoenix Suns guard Jared Dudley said people shouldn't rush to conclude that the low turnout number represents dissension, disinterest or disunity among the players.

"To me, does it matter? You can spin it that way. At the end of the day, I wasn't in a couple of the meetings in New York. Does that mean I'm not unified? I think that would be wrong to write that. At the end of the day, we all have to write papers, we all have to write stuff."
Modest, but worthwhile, improvements
There is plenty of good news for those considering checking out the "Lockout League" play next week. First, there are plenty of tickets available. Second, Impact Basketball has shown itself to be very flexible in making improvements to the series.
On Thursday, Impact added an in-game emcee to help narrate the action. This is a particularly fan-friendly addition because the players are playing in jerseys that do not bear their names and sometimes rotate from team to team throughout the week. There's also no large scoreboard or video replay, so it can get a bit confusing keeping track of everyone, especially for the non-diehards. Many of the players in attendance are not particularly recognizable or well-known, either, so the emcee was a thoughtful improvement.
On Wednesday, Impact also cut back from four games per day to three games per day. While you might think at first that this would be less basketball for your money, the move actually improved the games considerably. Less was more here. The change allowed the games to be standardized to 10-minute quarters and rosters were condensed so that each team had seven or eight players instead of the five-a-side that was the norm during the four games per day earlier in the week. That meant each player could go harder, each guy could get breathers if necessary and the threat of a single injury stopping play was no longer a problem. Perhaps most importantly, it cut down on the total number of hours a fan would need to devote to seeing all the best players play. Instead of being in the gym from 1:30 p.m.to 9:30 p.m., fans could leave closer to 7:30 p.m.
The new presence of bigger-name players like
Al Harrington
,
Stephen Curry
and
Rudy Gay
(who watched from the sideline) on Thursday didn't hurt either.
Hijinks
In this no-frills environment there was bound to be edgier player behavior. Profanity from the court and from the pre-game soundtrack was the norm at Impact; the sterilization that you find at the NBA in that regard was not present.
With only a few exceptions, the players, who were not forced by anyone to conduct interviews or interact with media or fans, were thoughtful and kind on and off the court. Of course, the exceptions are far more entertaining than the rule, so here are a few highlights.
Melvin Ely
, who is reportedly heading to China, crumpled to the ground after taking a blow to his face. In some fairly serious pain, Ely was escorted to a training area away from the court, where he was attended to by medical personnel. On his way there, though, he took a quick detour to upend a large gatorade bucket in frustration, crashing the contents behind one of the team's benches. Players chuckled and media members raised their eyebrows.
On Thursday, Denver
Nuggets
forward Al Harrington made his debut with a bang, earning two technical fouls in one game for disputing calls. The first time, he merely shouted at one of the referees; the second time, he chucked a ball so far off the court it hit a brick wall some 20 or 30 feet behind one of the baskets. Harrington was not ejected after receiving his second technical, although free throws were awarded on both violations.
The best trash talk exchange of the week occurred on Thursday, when Indiana
Pacers
forward
Dahntay Jones
and Detroit
Pistons
forward
Austin Daye
got into an entertaining back-and-forth. Jones, as you might expect, was the Impact Basketball king of the hard foul, sending player after player crashing to the hardwood in an effort to prevent lay-ups. He also was quick to chat too.
Daye found himself arguing a call while waiting to rebound a free throw attempt. Jones, who was in the backcourt, piped up to let Daye know that he was "soft" and that he should end his argument. Daye, an exceptionally skinny man for an NBA player, took real exception to Jones' label, raising his arms up to gesture towards the media section located behind the basket.
"You've got the worst game in here, ask any of them," Daye told Jones twice. Jones responded by mocking Daye's arm motions and sarcastically mimicking his aggravated tone. Play eventually resumed.
'When you work out with guys for three or four months," Dudley explained, "they get under your skin. You're tired, you want to go home."
Top scorer
Houston
Rockets
guard
Kyle Lowry
had the high point scoring game of the week, notching 56 points in a heated Thursday contest.
Team play


Probably the most entertaining team to watch was a late-arriving Golden State
Warriors
crew that made its debut on Thursday. Curry,
David Lee
,
Jeremy Lin
,
Ekpe Udoh
,
Jeremy Tyler
,
Klay Thompson
,
Lou Amundson
,
Charles Jenkins
and
Dorell Wright
all got some run in. There were so many Warriors they actually had to be split up into two squads. What was great about Golden State was that you could see real chemistry at work rather than the slapped together teamwork that you usually see in summer exhibitions. Lots of communication and instruction. Lee hollered across the court at Lin, instructing him to stay in the weakside corner and serve as an outlet whenever he drew interior defenders on a drive. Thompson got a feel for establishing an inside-outside game with Lee, and lit it up from deep, draining jumper after jumper.
Undersized Thomas feels he has a leg up
Of the incoming rookie class of 2011,
Isaiah Thomas
, the draft's final pick by the Sacramento
Kings
, stood out for how comfortable he looked against more seasoned competition. Thomas is an undersized scoring guard who will struggle to defend at the NBA level. But he's also exceedingly quick, confident and able to create his own shot, a nice combination for a reserve, change of pace guard.
Thomas said he fit in right away at Impact because of his previous experience playing against professional players in Seattle, where he attended the University of Washington.
"It's a blessing because not everybody in my position has that [experience]," Thomas said. "We've got guys like
Brandon Roy
,
Jamal Crawford
,
Nate Robinson
and the list goes on.
Jason Terry
. They really look out for the younger guys, the guy like Brandon Roy is such a great guy, he gives me input before games, after games, even when we workout together up in Seattle. He's a great guy and I learn from things like that.
He said he feels like he has a leg up on many other rookies in his position, both on and off the court, because of that guidance.
"It makes the transition smoother. Every guy up in Seattle has been through the situation I'm about to go through, but in different ways. If I can ask them about practice is going, what to expect, what's the business side of things. They all got different input, I take that all in. They are just trying to help, they are never going to steer me in the wrong direction."
As the last man selected in the draft and with a nonguaranteed contract likely in his future, Thomas realizes he will have to get in where he fits in with the Kings. "Play hard, play every possession like it's my last," Thomas explained. "Do whatever that want me to do. Score, get others involved, get on loose balls, play defense, I just want to play. After the draft, the Kings said, 'Keep doing what you're doing. We're excited when the time comes.'"