Posted by Ben Golliver.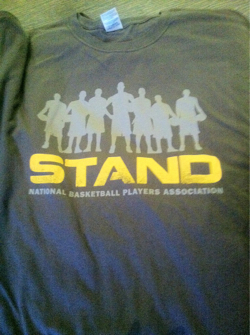 LAS VEGAS -- Yards away from the Vdara Hotel's lobby, where an endless line of tourists stood patiently waiting to check into their hotel room, a large group of NBA players sat in a conference room on Thursday morning, getting briefed on the latest news from ongoing collective bargaining agreement negotiations by National Basketball Players Association executive director Billy Hunter, NBPA president
Derek Fisher
and other NBPA executive committee members.
The immediate message from the NBPA executive committee after the meeting closed approximated the sentiment expressed in a letter sent Wednesday from Fisher to every NBA player: Player solidarity is important, there is a fundamental split among the owners, and decertification of the union is not imminent.
To underscore that solidarity, the NBPA distributed gray t-shirts, featuring a silhouette image of basketball players above the word "STAND" in yellow block letters. More than 30 players wore the t-shirts and stood behind Hunter and Fisher as they addressed reporters in an adjacent press conference room.
"We had a very colorful and engaging meeting today," Fisher began. "We are together. We are unified. There is not a fracture and a separation amongst our group that in some ways has been reported. We want to continue to reiterate that point."
Despite some players expressing frustration at the lack of progress in the ongoing negotiations between the NBA and NBPA, Hunter said that frustration didn't rear its head in Thursday's meeting.
"I don't get the kind of negative feedback that I get from some of the articles that you guys write," Hunter said.
Roughly 35 NBA players attended the meeting, which was scheduled to begin at 10:30 a.m. and was expected to last at least 75 minutes, adjourned around 1:30 p.m. Attendance estimates presented earlier in the week were nearly double the number of players who actually showed up.

"There's no disappointment in the number," Fisher said, noting that 90 percent of the players who are competing in the Impact Basketball Competitive Training Series attended Thursday's meeting.

Those who did attend were greeted by a presentation from National Football League Players Association negotiator DeMaurice Smith, who was reportedly invited by Fisher. Smith hurriedly left the meeting at 11:30 a.m. and refused to comment to the media assembled, citing another engagement. Hunter said Smith provided some thoughts on his experience handling the NFL's labor dispute and noted that he cautioned the NBA players that decertification of the union is not a "silver bullet" and that the "real key is solidarity."
Hunter also wanted to make one point crystal clear: "We did not talk about decertification as a strategy." He did say the NBPA presented "a full disclosure" of the facts and circumstances surrounding a potential decertification but that it was simply a part of the education process and not a tactic or plan.

Fisher maintained that any player agents who were hoping to push the decertification issue or undermine the union's executive committee will not succeed.
"Any statements or agendas that are being pushed by groups, they don't have a way in as long as we stand shoulder to shoulder," Fisher said.
With decertification apparently tabled, at best, the so-called "blood issues" for the players remain unchanged.
"We've been clear on a few main points which are, in a sense, nonnegotiable," Fisher told reporters after the main press conference adjourned. "We're not going to sign a deal if they include a hard salary cap, if they include a limitation on exceptions and guaranteed contracts, those are things we just cannot and will not sign off on."

Asked whether he thought the 30 NBA owners were united in a willingness to sacrifice a season in general and to sacrifice a season over the institution of a hard cap, Fisher was clear.

"No. Not even close. Nowhere near 30 teams and 30 owners. [Less than half], in my opinion. Obviously, I'm not in the room when they take votes but in my opinion there are not as many teams and owners as people would think that are interested in throwing away a season over a hard cap issue. I think [deputy commissioner] Adam Silver and commissioner [David] Stern have even said it themselves. If we can find a way to find some common ground on economics, they don't see throwing away a season over the system. And so that's the way we've attacked the matter. If we can get into a range where the economics are acceptable for both sides, the system will stay where it is."

As far as a timeline, Fisher would not confirm specific next step plans but said he hoped talks with the owners would begin next week, noting that the players are ready to continue the process. Hunter also noted that he expects to hear back from the National Labor Relations Board regarding the union's complaint that the NBA is not negotiating in good faith "within the next three weeks or so."

Until then, the message is simple: keep negotiating whenever possible, and wait.
"The resolve is strong," Hunter concluded. "This is still early in the game, nobody has lost any paychecks. That doesn't happen until November 16. There's still time to get a deal."