Posted by Royce Young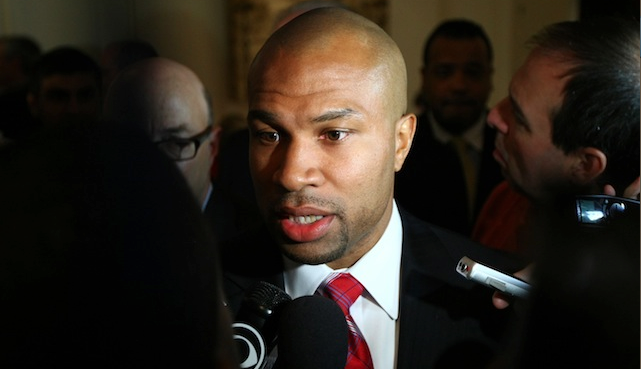 Thursday is a big day for NBA players. About 70 will convene in Las Vegas for a meeting to discuss how to handle the labor negotiations going forward. A new strategy could be part of it, whether or not they're willing to compromise, what it would take for an agreement and all that. It's important and union president
Derek Fisher
knows it.
That's why he sent out a long, detailed letter to the players pretty much begging for unity.
SI.com obtained the letter
and here are a few choice samples.
After the latest round of meetings, I thought it would be best to update you personally as to where the leadership of the National Basketball Players Association stands, where the negotiations stand where we are headed and the reasons why.

Without a doubt, someone will be leaking this. I know it. The moment you read this you will know it. So, I say all with the fullest transparency.
That Derek Fisher is perceptive.
The most recent meetings in New York were effective. What you have been told by your agents, representatives and the media is probably speculative and inaccurate.

What actually happened in those meetings was discussion, brainstorming and a sharing of options by both sides. The turning point this past Tuesday was not a disagreement between the players and the owners. It was actually a fundamental divide between the owners internally. They could not agree with each other on specific points of the deal and therefore it caused conflict within the league and its owners.

So it is our hope that today, Thursday, at the owners meeting in Dallas that they work out their differences, come up with a revenue sharing plan that will protect their teams and are then ready to come together and sign off on the agreement we as a smaller group deemed reasonable.

Decertification seems to be a hot button issue today in the media. So I'd like to address it. I've read yesterday's stories and find the position of these agents interesting. I have made myself available to each and every agent. But not once have I heard from them. If they are so concerned about the direction of the union, then why have they not contacted me? Each and every one of them mentioned has been in meetings with me. I've answered their questions, I've been told they support you, their players and our Players Association. So if there is a genuine concern, a suggestion, a question, call me. Email me. Text me. I'm working tirelessly each and every day on behalf of the over 400 players that they represent. Working for nothing but the best interests of THEIR guys. I don't make a commission, I don't make a salary for serving as President. I have NO ulterior motives. None.
Of course that's in response on some
power agents pushing for the union to decertify
. Billy Hunter has said that it isn't on the table and Fisher is making it clear here that it shouldn't be part of their strategy. The players already have one lawsuit against the league claiming they didn't bargain in good faith before the lockout.
But it's encouraging he says the meetings were effective. And I would agree. Everyone came out saying doom and gloom,
but as Ken Berger of CBSSports.com noted
, the two sides are on the same planet in terms of money now. Which seems like it's pretty important. And Fisher said pretty point blank that the owners are divided. Which is fairly important.
Fisher continued on with the agents part:
It is because they have not come to me once that I question their motives.

I work every day on these negotiations. I work so that each player from Blake Griffin to Tyler Hansbrough, Pau Gasol to De'Andre Jordan, Dwight Howard to Jrue Holiday, Taj Gibson to Danny Granger, Steve Nash to Luke Babbit and every single player get a fair and reasonable deal. Not just for this year, not just for next year but for years to come. So that the league that WE the players largely helped build, continues to grow and thrive.

So to address the agents that have decided to say their piece yesterday, I don't mind. Perhaps they are trying to make news. Perhaps they just want to show you, their clients, they are working hard. But what would be appreciated by the 400+ players would be the support of our agents and constructive ideas, suggestions and solutions that are in our best interests. Not the push for a drastic move that leaves their players without a union, without pensions, without health care. We just aren't there.

I will remain committed to finding resolution to this because I know how important this is. I ask you to remain united with me and your over 400 allies, friends, brothers and colleagues. We are a powerful group if we remain united and focused on the task at hand.

I urge every single one of you to call me, text me, email me with anything. An idea, a suggestion, a concern, a question. I represent you. I work for you.

So to each player, each fan, each agent, each media member who ends up reading this...I stand behind this message. It comes from me, a 15 year veteran of basketball, the game I dreamt of playing as a kid, the game I love so much. I'm a teammate, I'm a father, I'm a son, I'm a husband, I'm a brother, but right now, the role I must work so hard to honor is the one as PA President. And I ask each of you to stand with me, stand by me and urge the league and the owners to come together and allow the game of basketball to continue to grow and thrive. We're ready.
Here's what i take out of it: 1) Fisher likes lists and short, punchy sentences. Cool writing style. I like that stuff too.
2) Fisher really wants the union to remain united. Those power agents are looking to take control of the situation and Fisher is worried that it's going to screw up everything. More than likely, Fisher and Hunter have had a plan all along and they're executing it. And these agents want to swoop in and mess it all up. So I understand the concern.
And 3) Fisher wants players to email or text him with any questions, concerns or ideas. Just be sure you specify it's a text and not a tweet. How u.