Posted by Ben Golliver.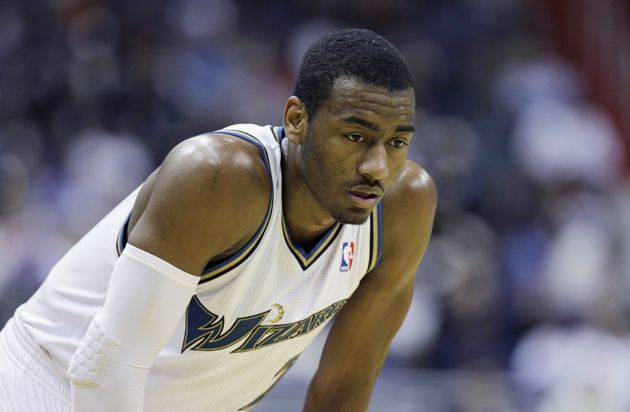 LAS VEGAS -- The Impact Basketball Competitive Training Series -- better known as the "Lockout League" -- had its first signature moment of the week, thanks to a big name guest on Wednesday. Washington
Wizards
point guard
John Wall
-- suiting up with NBA teammates like
JaVale McGee
,
Jordan Crawford
and
Rashard Lewis
-- put on a show like he has been all summer, tossing in acrobatic lay-ups, slamming a blocked shot against the backboard, unleashing a variety of dribble moves and, most fearsomely, gobbling up defenders in transition as only he can on his way to 42 points. There were two exclamation points. The first: a pull-back dribble move and jumper that made Coby Karl fall to the ground. The second: another jumper, more routine, that led Wall to scream towards the crowd that this was what getting better in the summer was all about. It was great to hear a young player, a future perennial All-Star no less, so focused on improving the most glaring weakness in his game.
The only problem? His yells of pride fell on deaf ears and empty seats.
Wall's appearance roughly tripled the average number of ticket-paying customers at Impact, but that number still fell short of 100 people. It is an astonishing number, considering Wall's popularity in college, his strong rookie season, the inherent marketability of his game and his fan-friendly personality. He stole the show in this very same town in the Summer of 2010, providing highlight reel play after highlight reel play during the annual Las Vegas Summer League.
The lesson here? Well, it's more of a reminder than a revelation. Wall might be irreplaceable on the hardwood, but he doesn't promote the games, he doesn't market the league and his team, he doesn't cultivate years-long relationships with corporate partners, he doesn't create season ticketholder retention plans, he doesn't sign the television deals, he doesn't design the jerseys, he doesn't conduct market studies on the ideal in-game experience to maximize fan happiness and he doesn't own or operate the building.
Give Wall a stage and a supporting cast and he will star. Ask him to star and hope that everything else falls into place? It just doesn't work like that.
There are a handful of NBA players that are recognizable and famous enough that their presence alone could sell out an NBA arena on a moment's notice. But even second or third tier stars like Wall need the NBA and the structure it provides far more than we probably realized when the lockout went into effect on July 1. The training staff at Impact Basketball couldn't be more knowledgable, professional and experienced. The media relations personnel couldn't be more accomodating. Everyone involved in the "Lockout League" is as passionate a fan of hoops as you will find in any NBA office or at any NBA arena. But to compare what the players are doing here to the NBA is like David and Goliath, to put it kindly. There are high school football games drawing significantly larger crowds in all 50 states this week.
This summer we've learned, or been reminded, that the labor negotiations aren't just millionaire players versus billionaire owners. Rather, it's the players against owners, the thirty established brands they've created and managed, the league's infrastructure, marketing prowess and distribution capabilities, and its established corporate partner relationships and season ticket holder fanbases. It's easy to take the side of the little guy in any labor dispute. It's far more difficult to calculate how valuable any one of the individual little guys is to the entire machine in a corporate structure that rewards its employees so handsomely.
A common refrain from players assembled in Las Vegas this week is that they want to get back to work as soon as possible. They love the game and that the league's growing popularity is evidence that harm will be done if games are missed. That's certainly all true. But a vast majority of players always have and always will cycle through teams, in and out of the NBA in a relative blink of the eye. The brands and franchises, ultimately, are the bedrock of the NBA. Individual players, especially superstars, can bring new fans and convert casual fans into diehards. But only a select few -- not even one player per team -- can have a transformative effect. That kind of ratio simply isn't a business model. It takes a lot more to make the whole thing work.
I suspect that's why the players who are gathered in Las Vegas keep using words like "urgency" and "frustration" and "anger" when describing the lack of progress in the labor talks. Their career clocks are ticking. Their individual earning power decreases by the day. Their opportunity to achieve their wildest dreams slips slowly like sand in an hourglass. It's easy to lose sight of all of this during the middle of a whirlwind NBA season, with eight games a night and constant television programming that distorts perspective.
But that reality is inescapable when Wall performs a move that would be water cooler fodder nationwide if it happened under the NBA Playoffs spotlight, and it's not even met with audible cheers or gasps of awe, and is only captured on a handful of cameraphones and the most dedicated independent basketball video mixtape websites. The NBA and its owners -- as profit-hungry as they might be -- don't look nearly as bad compared to the "If an NBA player falls in the woods during the lockout, does he make a sound?" alternative that's been on display here.
The loss of time and opportunity is starting to feel very, very real. New York
Knicks
guard Roger Mason, Jr. admitted on Wednesday that there is "absolutely" the possibility that the entire 2011-2012 season will be lost. Phoenix
Suns
forward
Jared Dudley
acknowledged that the owners have the leverage and even wondered aloud Wednesday night whether decertification might as well happen now rather than waiting a few months, if it's an option that's currently on the table. Free agents and undrafted players here generally don't seem to concern themselves too much with the specifics of the negotiations, they just want to know where their next deal is coming from and when they'll be able to take the court.
In other words, I don't envy Billy Hunter and
Derek Fisher
right now. While the crowd at the "Lockout League" games has been almost eerily silent, the behind-closed-doors NBPA meeting on Thursday, in which the players' next negotiating steps are to be discussed, should be plenty loud.