Posted by Ben Golliver.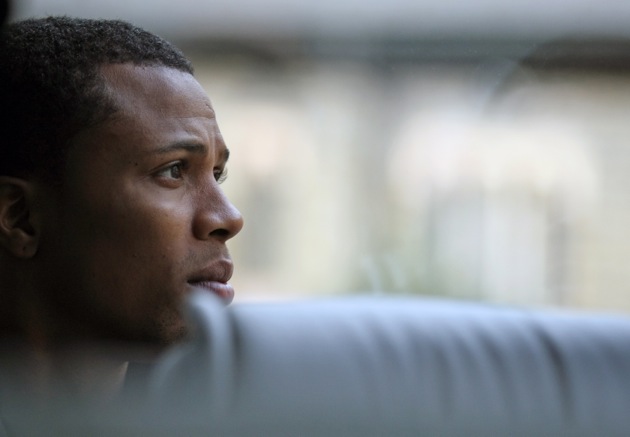 LAS VEGAS -- A giant banner spans the entire baseline and rises some 20 feet into the air at Impact Basketball's Competitive Training Series. In full color, it depicts a player holding a basketball and screams a simple message in all capital letters: "POWER TO THE PEOPLE."
Given the news out of New York City on Tuesday, a day that saw labor talks between the NBA and the National Basketball Players Association go nowhere, the "people" in Las Vegas, the dozens of professional basketball players assembled here to train and go through organized, five-on-five scrimmages, felt fairly powerless.
The news from New York spread throughout the gym rapidly via text message and tweets shortly after the games began, and it was met with frustration, anger and nervousness from some of the players present. Others maintained appearances and downplayed the day's events, but word that no progess had been made and that there was no immediate next step in the talks definitely hit with a thud at Impact.
"It sucks," said free agent point guard
Sebastian Telfair
bluntly. "[I'm feeling] sadness and frustration. This is our lives, our livelihoods, this is how we make our living. Guys are not going to be able to play basketball. We all love to play basketball, we all like to compete. Everyone likes to go out there and try to play for the gold. Right now, we're not getting the opportunity to do that."
Telfair, who is 26 years old and played for the Minnesota
Timberwolves
last season, heard about the news via text message from his agent just minutes after stepping off the court. He said Tuesday that he badly wants to catch on with a contender next season but knows that can't happen until the proper compromises are reached. "I was hoping for something," Telfair said. "At least move and agree on some things and then the things that the NBA and the Players Association don't agree on, then we can argue about that. But I think the first step for the lockout is for us to agree on something."
The worst part is that Telfair seems to feel a bit trapped. A natural communicator and ever vocal on the court, calling defensive assignments and yelling encouragement to himself, Telfair struggled for words when asked to lay out what he can do to prepare himself in the event that the lockout leads to a work stoppage.
"There's not too many ways you can prepare yourself," Telfair said. "Either you can go take a job overseas or other than that… you sit and wait. I don't really have the other answers. Just stay in shape. Sit and wait. And when they do make an agreement, just be ready."
While he admitted that a work stoppage now seems like a "legit possibility," Telfair clearly would prefer a resolution sooner rather than later, calling the waiting game "brutal."
"We've got a lot of free agents, like myself, all that business is on hold right now," Telfair explained. "A lot of guys don't know what team they're going to be playing with or what. We need to get this thing jumping off fast."
Isaiah Thomas
, a 22-year-old second round pick in the 2011 NBA Draft by the Sacramento
Kings
who has yet to sign a contract officially, couldn't agree more. Thomas admitted that the lack of progress on Tuesday, which he heard about on Twitter, is starting to make him "a little bit" nervous.
"I'm mad, angry, because it feels like I'm still in college right now," Thomas said. "I made that decision [to skip his senior season] and I got drafted but nothing has changed. I've got to just patiently wait. Keep it in God's hands and hopefully it works out. Time is ticking. I've been patiently waiting. Hopefully if the time comes, I can get an NBA paycheck and be able to play and put on an NBA uniform."

Knowing what to expect from next season and having a contract in hand would seem to ease some of the frustration that Telfair and Thomas are describing. Memphis Grizzlies guard Tony Allen, for example, raised his voice and picked at his toes while discussing the league's ongoing labor talks, but was clear that he is not frustrated.

"We just riding under Billy Hunter right now," Allen said, expressing support for the Executive Director of the NBPA. "We're just hoping the league can negotiate with us and we can get this thing back going."
If not frustration, though, Allen, 29 and signed through next season and one more, did admit to feeling some "urgency."

"I know they need to get it done," Allen, a key member of a Grizzlies team that knocked off the San Antonio Spurs in the Western Conference playoffs, said. "I ain't here to say who is right and who is wrong but I am here to say, considering the run the Memphis Grizzlies had, I hope we get it back started soon. Keep our momentum going. We definitely put winning in our franchise this year, and having a lockout kind of put a dent in things. ... I understand commissioner David Stern and our player rep Billy Hunter both know what they want, but at the end of the day both sides have to agree to something. That's where we are at right now."

If only it were that simple. But there was one calm, steady voice among the group: Indiana Pacers forward and player representative Dahntay Jones.

With the media chatting and gossiping over the doom and gloom scenarios being floated in the wake of comments made by NBA commissioner David Stern and NBPA president Derek Fisher, Jones kept a relaxed, straight face, and made it clear that the frustration was understandable, but not all that meaningful.

"It's a part of negotiations," Jones, 30, said. "Any negotiation is going to get frustrating... We're happy with our representation at the meetings. We're prepared for the situation. We're prepared for what could possibly happen. We've been ready for it. It's not [anything] new. We know what the worst and the best outcome could be. We're waiting patiently."

He dismissed the most hysterical reactions as an unavoidable byproduct of the attention given to these negotiations and the level of investment that so many people feel towards the league.

"That's the media in general," Jones explained. "You can't believe everything you hear. Everything is spun off. That's just what happens with word of mouth, when stories get shared between people, things get changed sometimes. No media is in the meetings so they really can't give us everything that's going on."
Jones said he would get a full, accurate rundown of the current state of the talks on Thursday, when the players are set to meet at an undisclosed location in Las Vegas. He said he expects that meeting, like previous meetings, to be an informational status report and nothing more.
"Business as usual," Jones said. "There's no need for emotion in a situation like this... Every time we have a meeting, it's a business meeting."
Business meeting or not, time
is
ticking and alternate plans are being made. Telfair said he is "bound to the USA" and will only go overseas as a very last resort. Thomas said he has enrolled in three classes at the University of Washington and will work out in Seattle if there's a prolonged lockout. Jones would only say that he would "evaluate" his options as the process continues. Allen, like Telfair, wants to stay stateside.
"My audible is just to stay over here," he said. "I love the American game. I been doing that for the last seven years. [The wait] ain't got boring. That's my job. I don't know who could get tired of playing, doing something they love. I love playing basketball, that's why I'm out here playing right now."
The love of the game was a common theme among all the players, but surely it's alright to love getting paid to play the game too, right?
"I don't play for the money, I play for the love," Allen declared, finally and forcefully, ice packs taped to his left knee and right ankle. "Whenever I start playing for the wrong reasons, I know that's when it's time to quit."

The rest of the NBA's players, at least those who haven't already bolted for overseas, would do well to adopt Allen's philosophy, at least for the time being. They might as well.

Because power comes from leverage which, in turn, comes from options. And the people just don't have many good ones right now.