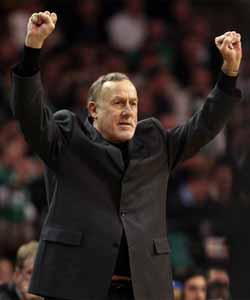 By Matt Moore
Update 9:38 a.m. EST:
The
Timberwolves
have officially announced the hire
.


Update 8:40 a.m. EST:
The
Minneapolis Star-Tribune has confirmed
with multiple sources that Adelman has accepted the offer to become the new head coach of the Timberwolves. Yahoo Sports and
ESPN both
independently
are discussing the deal as done
.
Original Report:
Kevin Love
is known to have pretty loose lips. He's an honest cat and tends to release info on his Twitter account. After reports this weekend that Rick Adelman has an agreement to join the Minnesota Timberwolves as their new head coach, Love tweeted Monday:
Houston, we have a coach.
via
Twitter / @kevinlove: Houston, we have a coach. ...
.
Now, that could mean a lot of things, but the
Minneapolis Star-Tribune indicates that there's no sense arguing over the tea leaves
. It's reporting Adelman has in fact agreed to become the head coach of the Wolves according to one source, but is stopping shy of calling it official. The
Star
's Jerry Zgoda does report that if it's true, it could have huge ramifications for the Wolves. Particularly, Love discussed what it could mean for his future in the Twin Cities:
Yes, if it's true Love said Adelman's presence would "absolutely" play a factor in whether he signs a contract extension with the team.

"When I talked about the prospect of me re-signing, I always said one of the things we'd have to have is a great coach," he said. "If it's true, we've got a great coach."
via
On the Wolves | StarTribune.com
.
Love goes on to say he can see himself being used perfectly in Adelman's system, as a facillitator from the high-post. We're right there with him.
While
Ricky Rubio
will benefit from a system that both pushes him in transition and allows him to focus on scoring at the bucket, no player may benefit more than Love, who enjoys a personal relationship with Adelman. (Love played with Adelman's son Patrick in high school and has known him since junior high.) Adelman won't seek to bury him as previous coaches have, will use him in the right contexts, from that catapult outlet pass to his three-point range and will help him develop his inside scoring. Most importantly, he can improve his individual defense.
If the report is accurate, defense will be a concern for the Wolves. They were a young team last year, so naturally bad defensively, and on top of that, they were bad defensively even for such a young team. Love has said before they need discipline. The
Rockets
under Adelman came unglued defensively last year, and that was their biggest challenge towards making the playoffs.
But overall it's a brilliant hire and something for Wolves fans to be extremely excited about, should the reports and Love's own beliefs turn out on point.
Lost in all the talk of Rubio and Love will be this.
Derrick Williams
, a combo-forward at 6-8, 241 lbs. will be coached by the man who got the most out of Chris Webber, a combo-forward at 6-9, 245 lbs. Using Williams in similar ways and developing him in the same mold could have huge results for the youngster. It'll be interesting to see immediately what Adelman elects to do with the trainwreck of a roster behind the starting lineup, with
Michael Beasley
and
Anthony Randolph
both behind Wililams, and the rest of the confusing moves made by Kahn.
Speaking of Kahn, this is both a good and bad thing. It his best move to date, sliding just above his move to trade
Mike Miller
in 2009 for the
Wizards
draft pick (note, this is for the move to acquire the pick, not his decision to draft two point guards back to back). If Adelman can have the kind of success he's had throughout his career, it could very well save Kahn's job. On the other hand, Adelman almost assuredly took the new gig under the condition of having input on the roster and personnel decisions. It puts someone who could easily take over the GM role should Kahn become unhinged from the Timberwolves coil. But if it works out, this could prove to be the accidental Summer of Kahn.
We'll keep you updated on whether the reports turn out to be confirmed.