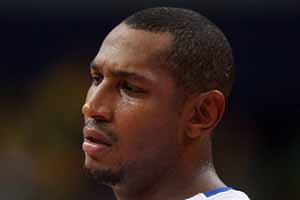 By Matt Moore
Boris Diaw
confirmed to NBA.com that should the lockout continues, he's not worried about it. He's already got a guaranteed spot on a French team. Doesn't even need to worry about a contract or signing. From NBA.com:
"If there is a lockout I will play in France with my hometown team in Bordeaux," Diaw told NBA.com on Sunday afternoon in Vilnius, Lithuania, shortly after the French National Team lost to Spain, 96-69.

"For sure I would go ahead and play with them. For me the decision is easy."

Luckily for Diaw he knows JSA Bordeaux's front office very well.

Diaw is the team president of the club.
via
Diaw to play for French team he co-owns if lockout persists | NBA.com
.
Maybe more NBA players should just go ahead and buy stakes in teams so they can be president. It's an easy way to guarantee yourself a spot. Of course, thta takes out the whole profit angle considering any salary drawn likely wouldn't cover their immediate investment. But long term, solid way to go.
Diaw looked very Diaw at times during the international competition, and it seems certain he'll never unlock the vast potential he showed in Phoenix. But from a business standpoint, he's got a nice lifeline with the French club. Plus, no trainers to watch his diet, since he's their employer. Win!