Posted by Royce Young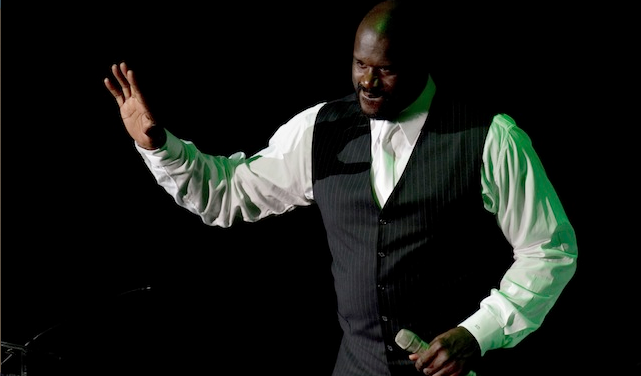 You might be shocked by this, but Shaquille O'Neal has some opinons he's not afraid to share them. And with him being retired, it's basically open season for him right now. Ask, and ye shall receive... great answers.
The Times-Picayune talked to The Big Retiree
at his recent statue unveiling and Shaq had some interesting thoughts on a wide number of topics.
First up, who's the real "Superman" and what he thinks about
Dwight Howard
's career.
His mom and my mom are good friends. I don't have a problem. But my thing is if you want to call yourself me (Superman), then you've got big shoes to fill. I'm not in the Superman this, and Superman that. He won a dunk contest with a cape. If you want to be called Superman because of that, it's fine with me. I'm Superman for other reasons. I don't envy him; he's a great young player.

But I've never seen him dog another center out. I tried to dog centers out. I went at David Robinson. If Dwight doesn't win two or three championships, I'm going to be disappointed. He doesn't have nobody. When I came in the league, I had to go through Alonzo Mourning, Arvydas Sabonis, Kevin Duckworth, Rik Smits. Now I can't name any other centers besides Kendrick Perkins and Andrew Bynum. Who else is there? That's it.
Andrew Bogut
just raised his hand. And Nene. And
Tim Duncan
(sort of). And
Marc Gasol
. And
Tyson Chandler
. And
Darko Milicic
(just kidding). I understand Shaq's point, but come on, there's a lot of big man talent in the league right now. It's might not be as much as he faced at one point, but it's still solid. Plus, the center position is a different world now than it was. It's not about guys like Duckworth who are big and bruising. It's about guys like Nene with speed and athleticism.
But he's certainly right. Dwight Howard needs to win. He's going to be a player defined by that. The idea is that big men equal championships and Howard's head and shoulders above all other big men.
Next up: Who was the best teammate out of Kobe, Wade and LeBron?
They were all different. Coming in, I had to bring Kobe along. Coming in with D-Wade, I didn't want to lose a friend like I lost Kobe, so I was real delicate with him. LeBron already had everything, so I never had to say anything to him.
Interesting there that Shaq said he lost Kobe as a friend. I mean, we all already kind of know that, but they've both always tried to act like they were cool with each other. Obviously not.
Shaq was asked about the difference between the league now and when he came in.
Business-wise, it's different. When I was in high school, every team had a star and a Hall of Famer. You don't have that now. Let's be real: Orlando, Boston, L.A., Miami — that's it. Maybe Memphis, the Spurs, maybe Steve Nash and the Phoenix Suns and the New York Knicks. Only nine or 10 teams have a star. In my opinion, it's kind of gone down. You've still got some young guys that are very exciting. They understand and grasp the power that they have.
Your new analyst, TNT! Seriously Shaq? No Oklahoma City and
Kevin Durant
? No
Derrick Rose
and the
Bulls
? No
Clippers
and
Blake Griffin
? No
Mavericks
and Dirk?
Chris Paul
and the
Hornets
?
Deron Williams
and the
Nets
? I understand overlooking
Kevin Love
or
LaMarcus Aldridge
, but someone's a little too nostalgic for The Good Old Days. There's more talent in the league than ever. I just counted 20 teams with a star. I think you're shortselling there big time, Shaq.
On deciding to retire at 39 while seeing his skills diminish:
At 39, I wasn't mentally on the down slope. But I used to feel really terrible after scoring eight points. This ain't me, the Diesel scoring eight points. My mind was on winning the whole thing, and we had a chance to get the second spot (in the Eastern Conference), and we ended up getting the fourth spot. I even told (Boston General Manager) Danny Ainge not to do the Kendrick Perkins deal with Oklahoma City. I told them I might not be ready, and I'm definitely not coming back. Those guys did what they've got to do. I wasn't surprised; I've seen it before. They say all that blah, blah, but you know it's always going to be something different.
Interesting Shaq says that now because the Perkins trade was largely contingent on his health. Ainge seemed positive that Shaq would return and contribute but according to Shaq, he wasn't sure he'd be ready. So much so that he advised Ainge not to do the trade.
Basically, here's what to take from this Shaq interview: He might not be correct or really even remotely close, but everything's going to be interesting and have a strong opinion. So there's no doubt that he's going to fit in really well next to Charles Barkley.