Posted by Ben Golliver.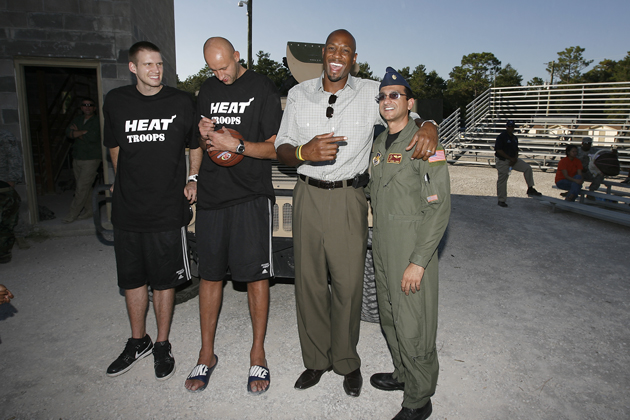 Professional basketball players on the fringes of the NBA, those without the certainty of a guaranteed multi-year contracts and forced to compete over and over with others to land a coveted roster spot, understand that control gets cede sooner or later, that relentlessly chasing opportunity wherever it may be is the only way to make a living.
For Shavlik Randolph, a former McDonald's All-American who battled injury and illness while at Duke, sticking in the NBA has been a whirlwind process, one that began when he wasn't selected in the 2005 NBA Draft but wound up catching on with the Philadelphia 76ers. The last five years have been a blur of spot minutes, 10-day contracts, try-outs and workouts, but his whirlwind has never spun faster or with more force than the last 12 months. In a year that he won't soon forget, Randolph found himself in the eye of the Miami Heat's hype hurricane, in a skier's paradise rehabilitating alongside a No. 1 overall draft pick, and finally in the Caribbean tropics, where he had a courtside view of one of the most tragic events in basketball in 2011.
Miami
The story begins just months before LeBron James and Chris Bosh decided to join Dwyane Wade in Miami. Randolph had just finished filling in for the Portland Trail Blazers when a string of injuries had decimated their roster. Miami, merely a slightly above-average team at this point, was looking to add a little depth in advance of a playoff run and also, knowing that big offseason changes would be in store one way or another, to get a look at a potential hard-working, low-cost, no-ego role player. Randolph appeared in just three games for the Heat but was encouraged to stick around for summer workouts.
What happened next won't soon be forgotten in the NBA. Bosh and Wade committed to the Heat, James announced his "Decision," the trio held a parade to predict multiple championships and the basketball world's attention honed in on South Beach.
"It was definitely crazy," Randolph remembers. "I was there through every step of it. The circus, the hype."
To get away from the scrutiny, the Heat, with Randolph in attendance, moved their training camp to a Florida Air Force base.
"It was all business," Randolph said. "Hardest training camp of my life. Pat Riley and Erik Spoelstra did an amazing job of creating a situation where [the distractions] didn't affect them or the players. Just keeping a family atmosphere."
A family atmosphere, at least off the court, anyway.
"LeBron, D. Wade and Bosh are three of the hardest workers I've ever seen," Randolph said. "They went at each other like they were enemies every day in practice. They might have been the most talented, people gave them crap for all the hype, but no team practices harder."
James, in particular, stood out. Randolph was born and raised in the heart of basketball country, Raleigh, N.C., the grandson of an All-American. He was a highly-regarded prospect as early as his mid-teens and he even broke his high school's single-game scoring record set by Naismith Hall of Famer Pete Maravich. But nobody along the way made the kind of impression that James did during that training camp.
"The only word for it is 'overwhelming,'" Randolph said. "His talent level is overwhelming. I had played against him [before[, but at camp I finally understood why he has the phrase 'witness' associated with him because until you step on a court with him and you see him, you can't understand. That guy is the fastest player on the court, the strongest player on the court and the highest jumping guy on the court every time he plays.
"I would just say overwhelmingly impressive," Randolph repeated. "He works hard. He works on his body, he works so hard."
Ultimately, Randolph was one of Miami's final roster cuts, released by the Heat in mid-October. A 6-foot-10 forward with a versatile offensive game, his skillset didn't fill Miami's biggest frontcourt need: bulky, veteran big men to provide depth in the middle.
Vail
In truth, Randolph had actually dropped a significant amount of weight simply so he could keep up with the pace of play. A hip problem that he had dealt with since high school and that had required surgery while he was at Duke had resurfaced. He participated in a group tryout for the Blazers in early November, after Jeff Pendergraph was lost to a season-ending knee injury and his replacement, Fabricio Oberto, promptly retired due to an ongoing heart condition. Free agent Sean Marks won the job, though, leaving Randolph to face a difficult decision regarding his health.
"I'm 27 and I'm not getting any younger," Randolph said. "My hip was so prohibiting. My flexibility, my explosiveness weren't the same. I was playing at 220 pounds to be able to maintain a pro level of athleticism," Randolph explained.
Admitting that he had put off surgery for "three or four seasons," Randolph finally decided, in late-November, to undergo another procedure. Corrective hip surgery, he knew, would cost him most, if not all, of the 2010-2011 NBA season and, because he wasn't on an NBA team, it would cost him money out of his own pocket. Still, it was worth it.
"If you've ever run around with a rock or a pebble in your shoe, that's what my hip felt like," Randolph said. "It twinges you. It doesn't stop you from running and you can still do stuff on it, it just affects you and throws you off from being able to do what you normally do at 100 percent."
Randolph travelled to the Steadman Clinic in Vail, Colorado, where he could be operated on by Dr. Marc Philippon, an orthopedic hip surgeon who has treated the likes of Alex Rodriguez, Greg Norman and Mario Lemieux.
"It made all the difference in the world," Randolph said of the surgery. "My explosiveness is back, my ability to box out, being able to play above the rim. It really affects you in every aspect. Now I'm back up to 245 or 250 pounds and moving with much more mobility. It brought all the fun back to the game too. My hip was pretty messed up and it was something I wish I had done a long time ago. I'm really excited."
Rehabilitation work continued in Vail and, within days, Randolph was joined by another NBA player and former teammate: Blazers center Greg Oden.
Oden was in Vail to undergo microfracture surgery on his left knee after suffering a non-contact injury while working to get back on the court for the Blazers after fracturing his left patella in December 2009. In the months since his surgery, Oden, the 7-foot-0 and 285 monster whom the Blazers selected over All-Star forward Kevin Durant in 2007, has been as invisible as a man his size can be. He has consented to only a few media interviews, made one television appearance and has otherwise been content to remain totally out of the media's critical spotlight.
But, in Vail, Oden wasn't as withdrawn.
"He was very upbeat and very excited," Randolph recalls. "I think he has a huge chip on his shoulder. He's looking forward to getting back on the court. I could see a sense of refreshment in his eyes after his surgery."
A picture of the two players, side-by-side, confirms that account. Oden, his giant body balanced on crutches, smiles from ear-to-ear. His stay in Vail was brief, as he left town soon after his procedure to return to Portland and continue his rehabilitation. The encounter between the two left Randolph worried not for Oden, but for his future opposition.
"I feel bad for the centers in the NBA when he does get back on the court," Randolph said, chuckling. "He's so big. And he has a new sense of purpose."
Puerto Rico
As if heading to training camp with the NBA's best player and rehabilitating next to the man some have called the league's biggest "bust" wasn't enough for one year, Randolph wound up in one of basketball's most remote locales, a by-stander to one of basketball's most shocking tragedies of 2011.
With his rehab complete, the NBA regular season winding down and a lockout on the horizon, Randolph sought out an opportunity to play competitively and regain his professional bearings. In April, he signed with Gallitos de Isabela, a professional team in Puerto Rico.
The gyms in Puerto Rico are hot, loud and small and extra security attends rivalry games to protect against crowd violence. Players have even been known to issue threats to opponents on the court. The whole thing combines to create a bit of a Wild West atmosphere. But the geography and climate makes it a convenient, pleasant location for former or future NBA players to make a pitstop.
"Puerto Rico is a very competitive league," Randolph said. "Every team had NBA caliber players. I think that league is on the come-up."
Randolph was able to find his old form, averaging 18 points and 12 rebounds in 27 games for the Gallitos, earning recognition as the league's "Import of the Year."
But his time on the often overlooked island would be marked by sad news that travelled quickly throughout the international basketball community. In May, former University of Michigan basketball star and journeyman NBA big man Robert "Tractor" Traylor was found dead at his apartment in Puerto Rico after suffering a heart attack.
Traylor was on the island playing for Vaqueros de Bayamon, one of Gallitos' competitors.
"I played against him the week it happened," Randolph said. "I had never met him until my team played his team. I had to guard him, he had to guard me, the week before that happened. He was the nicest, most upstanding guy. He couldn't have been a better sportsman. When that happened, the level of respect, the other teams, his teams, it was unbelievable. I was privileged and honored that I had the experience of meeting him."
The Gallitos and Vaqueros played again shortly after Traylor's death. Randolph and his teammates took courtside seats as the Vaqueros honored Traylor's memory.
"They retired his jersey, brought his whole family in and had an hour-long presentation," Randolph remembered. "They lifted his jersey up, had a video collage. It was very touching. I don't think there was a dry eye in the place."
China?
As spring turned to summer, league play in Puerto Rico concluded and Randolph returned to North Carolina to plot his next move. Playing in the thriving pro-am scene, Randolph played with or against North Carolina and NC State players and recruits as well as a host of current NBAers. As with everyone playing professional basketball, though, the lockout cast a shadow over his next move.
A few years removed from his most recent full-time NBA paycheck and still getting used to life post-surgery, Randolph must decide whether to wait on the NBA and take another shot at cracking a roster or heading overseas, where the pay and playing time will be more immediate. Until this summer, Randolph had always postponed the international option, content to take his chances and hope for an NBA call.
After receiving some "very, very good" offers from Europe and going through a workout process, Randolph now says he is in the "advanced stages" of negotiating a one-year deal with a team in China. He's scaled back on his pick-up play to avoid injury in recent weeks and considered, but decided to pass on playing in the Impact Basketball Competitive Training Series in Las Vegas for the same reason.
He says he is "very close" to signing and expects to make a final decision within the next week. The offer on the table is "equal to or greater than" what he would make signing a veteran minimum deal in the NBA.
"It's important for me to play this season," Randolph said. "I just want to put myself in a situation where I can play. That's the most important thing for me. I miss playing.
"I'm not a player who will have a large, multi-year contract on the table. I know that's not my situation. My goal is to play in the NBA but, first and foremost, to play. It may be in my best interest to go play overseas in a situation where I know I'm going to play and play a lot because there is so much uncertainty here."
Following a year that took him from hype to hospital to heartbreak, Randolph admits there would be an adjustment in heading to China, but that won't guide this decision.
"I know some guys who have already signed to play and other guys in talks, considering going over there," Randolph says. "I've talked to a few people who have played there. A few people who are going there this year. It's such a culture shock going over there but the bottom line is that you're playing basketball. I went and forfeited this past season by having surgery so I could go out and take advantage of any opportunity that's presented to me."
Because it's always about that next opportunity. No matter how wild and crazy the ride, or how long and winding the road, to get there might be.
"It's basketball," Randolph concludes. "The only way you get better is by playing."